Top Mini Portable Chainsaw Under $100

Top Mini Portable Chainsaw Under $100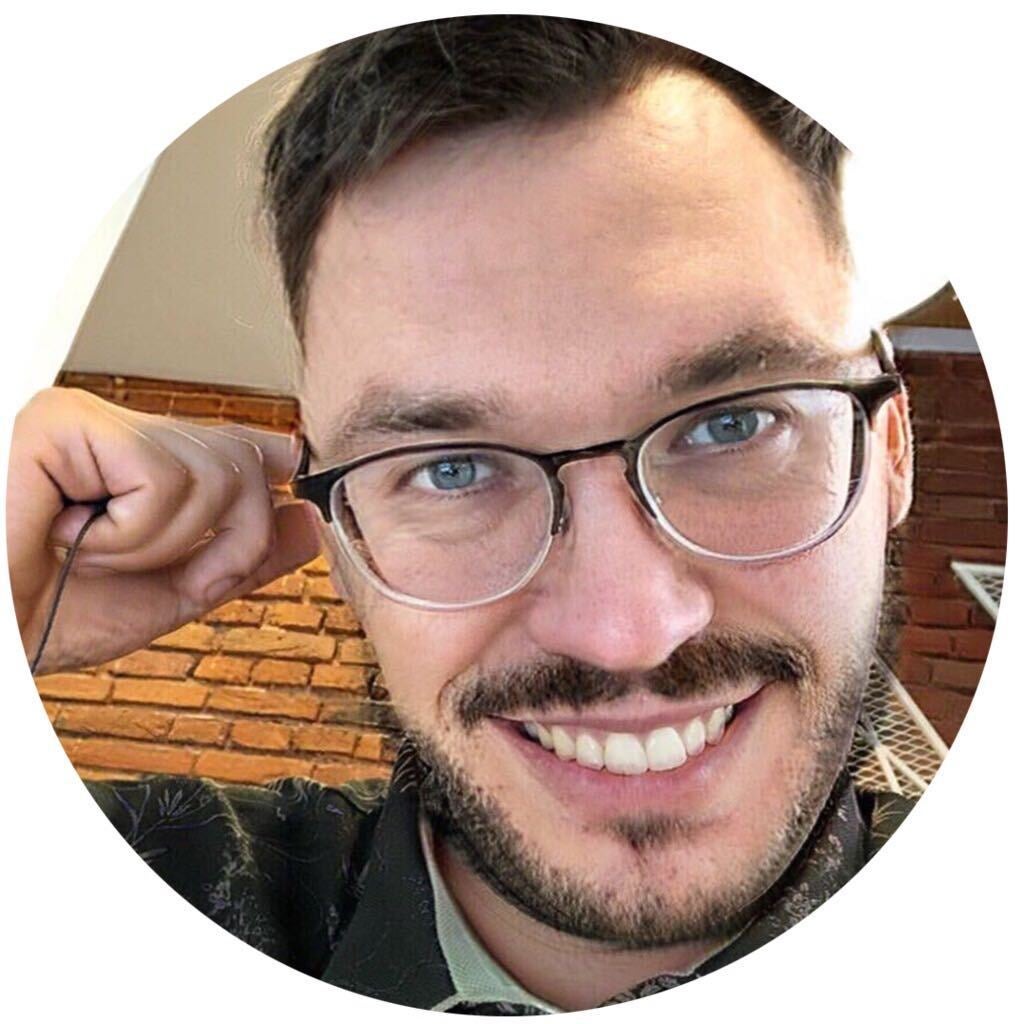 Tom Brant | 2 March, 2023
We didn't realize what we were getting into when we decided to create our top five list of mini portable chainsaws. Many mini portable chainsaw products with different brands and features are available. We realized the customers struggle to find the best option for pruning and trimming tasks, and they have to look through the entire collection in the market to find the best job. You are in the right place if you are here to see the top mini portable chainsaw.
Read below and find the top five mini portable chainsaws under $100 for pruning branches and maintaining topiary:
Product
Our score
Key Features
9.9

Excellent
Budget-friendly option
Quite and safe operation with a safety lock
Easy to carry with one hand
Perfect for pruning
Rechargeable electric chainsaw
Lightweight and portable (4-inch length and 1.1 kg weight)
Strong dynamic system
Protective baffle
Rubberized handle
Four-hour runtime (20V 1500mAh rechargeable lithium battery)
Copper wire high-efficiency motor
#1 BEST IN 2023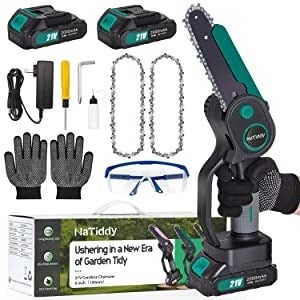 6

Good
Brushless motor for smooth operation
Overload and overheat protection
Comes with a storage case
#2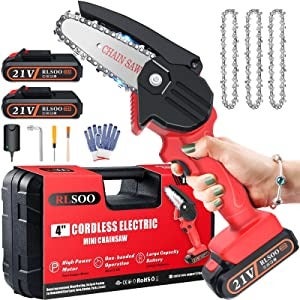 5.7

Decent
Equipped with wear-resistant blades
Safety lock and baffle for maximum protection
Convenient air vents dissipate heat
Comes with a range of accessories
#3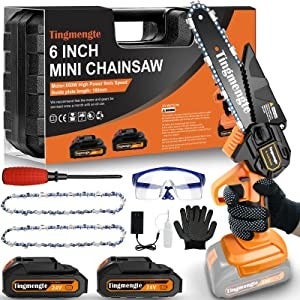 5.4

Mediocre
Mini Chainsaw by Tingmengte
Long battery life for uninterrupted operation
Durable, rust-resistant blade
Includes a range of accessories
#4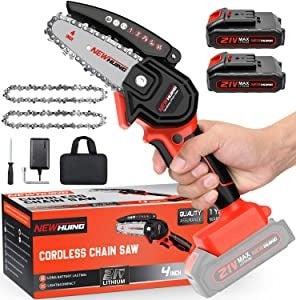 5

Mediocre
Mini Chainsaw by New Huing
A sturdy guide bar lasts longer
Built-in overload protection features
Battery lasts for a long time
#5
Best Overall Mini Portable Chainsaw
9.9

Excellent
Budget-friendly option
Quite and safe operation with a safety lock
Easy to carry with one hand
Perfect for pruning
Rechargeable electric chainsaw
Lightweight and portable (4-inch length and 1.1 kg weight)
Strong dynamic system
Protective baffle
Rubberized handle
Four-hour runtime (20V 1500mAh rechargeable lithium battery)
Copper wire high-efficiency motor
#1 BEST IN 2023
Compact and Lightweight

The portable chainsaw by Saker is a 4-inch mini chainsaw with a 1.1 kg weight.

Ultra Efficient Motor

This mini chainsaw contains a pure copper motor that takes up to 10 seconds to cut a log in 16cm diameter.

Up to 4-Hour Cut Time

It lasts about four hours for mild and up to two hours for continuous use. The chainsaw contains 20V 1500 mAh.
Our Team Bought and Tested Many Mini Chainsaws from Top Brands; Here is Why Mini Chainsaw by Saker is the Best Option for You
We found
Saker Mini cordless chainsaw
the best product because of easy to use, controlled grip, and high quality. Also, we checked different marketplaces to see the customers' choices and found Saker portable chainsaw at the top of the list. But since we follow a protocol to give you an honest review, we bought chainsaws from various brands. We tested these chainsaws' build, structure, and quality and concluded that Saker made an unbeatable chainsaw for their customers. Saker's mini chainsaw can help you with the following:
Pruning small branches
Cutting back suckering limbs
Trimming bush undergrowth
Cutting bamboo
Limbing small trees
Pruning fruit trees
Cutting back dense/wooded shrubs
While climbing trees to prune thick branches, arborists need small, lightweight top handle chainsaws. They are also capable of making some fuel and felling small trees.

Want to learn more? Read through the complete review.
Our Test Results
Robust dynamic system suitable for maximum mobility
You must use one hand to manage and operate the
Saker small chainsaw.
With less concern for a big, heavy chainsaw pulling you down, you'll have improved maneuverability for landscaping and gardening chores that require you to reach harder-to-reach areas. Because Saker makes yard labor simple and enjoyable, more than 64,000 consumers have fallen in love with it!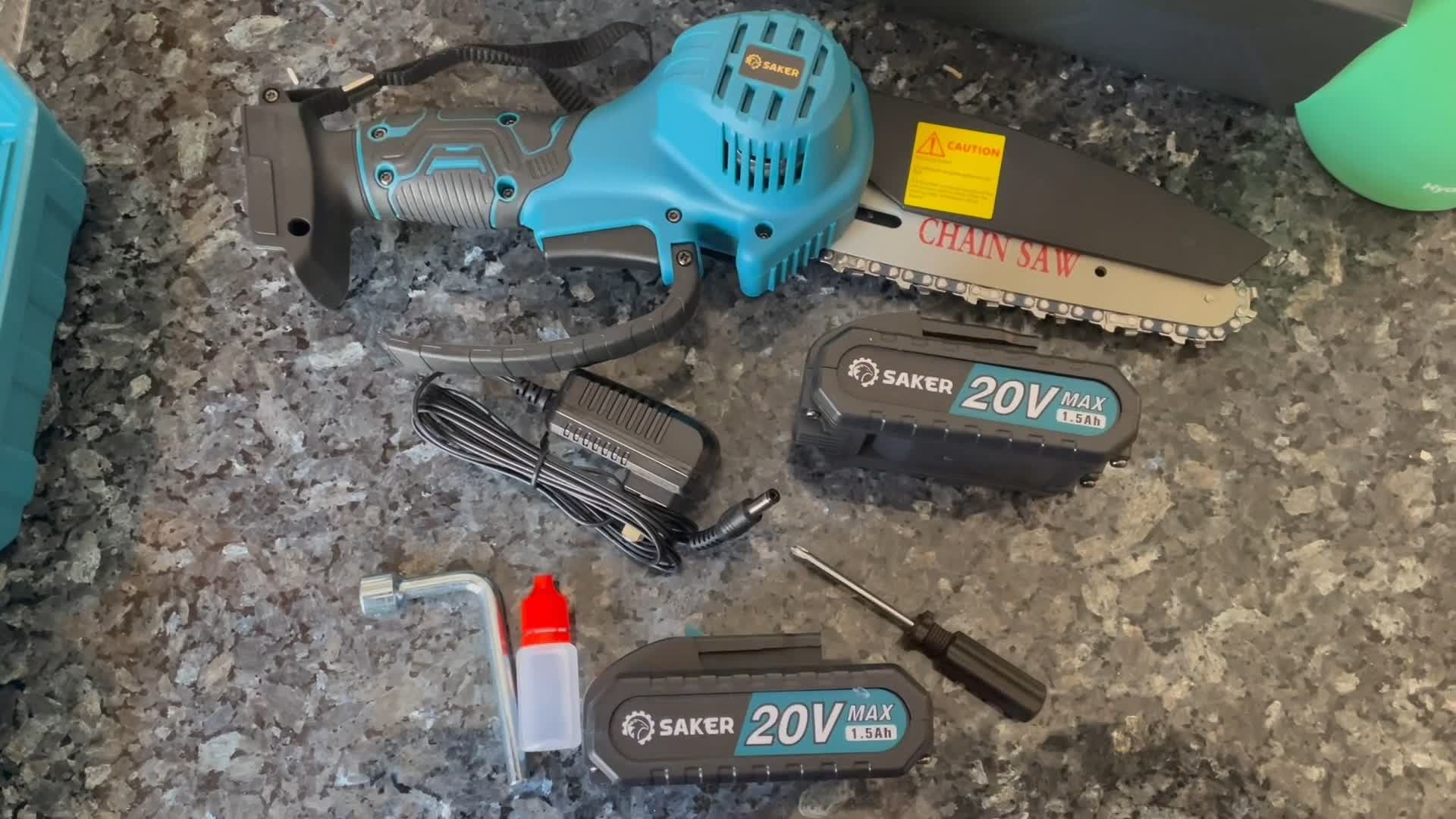 Performance
We tested the product on many branches in our backyard forest to test it to the extreme, and we were surprised by the handling and grip. All the trees in our backyard are under 4-inch diameter, and it went well, as claimed by the company. The performance exceeded expectations because of the power and torque fit across the four-inch bar.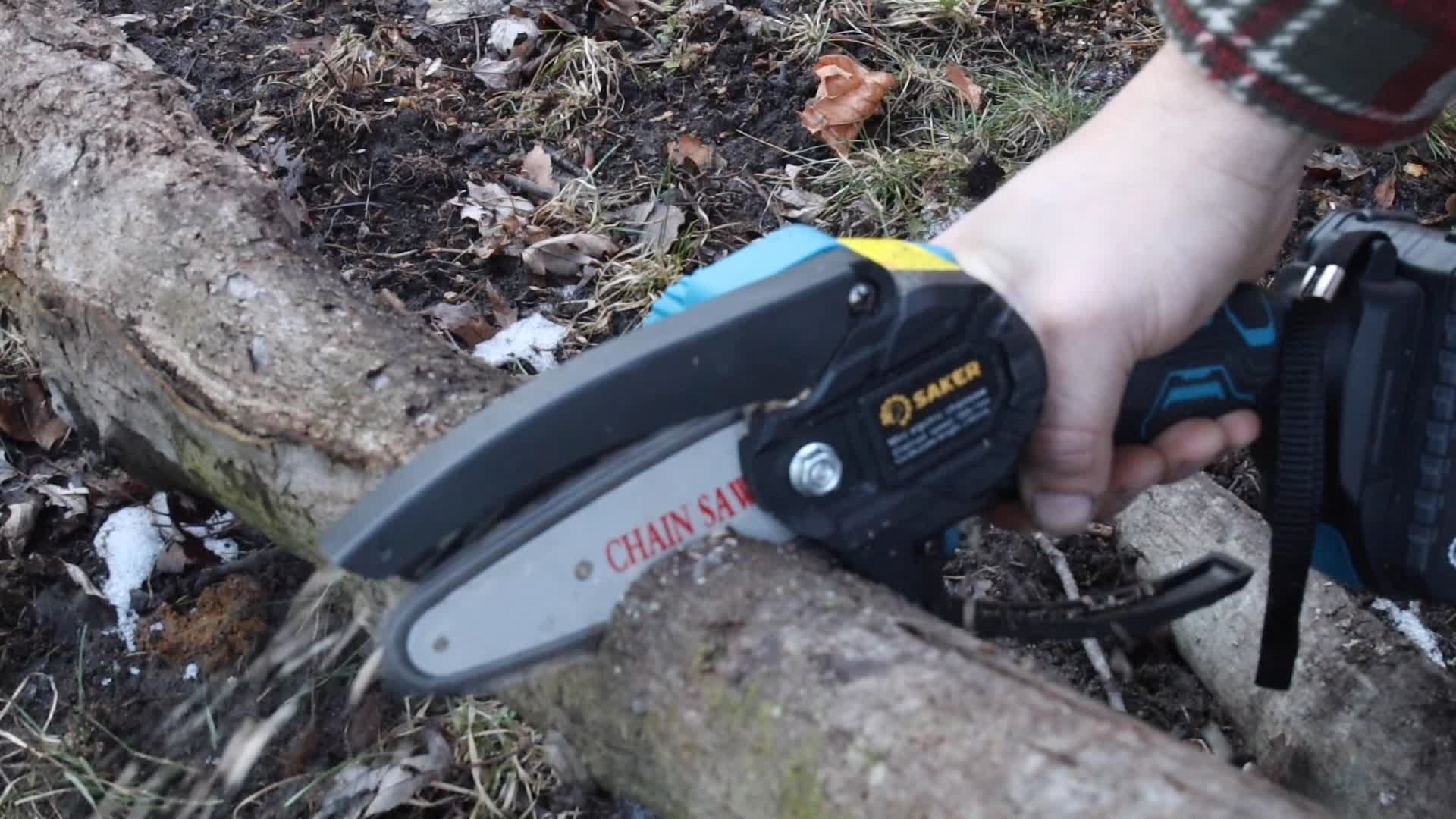 Surprisingly, the speed was remarkable. It is difficult to believe that a mini and portable 4-inch chainsaw would remove branches and cut trees without breaks, and I could cut a 4-inch tree in about 10 seconds. Quite astonishing. Moreover, the lightweight body will make it easier to buck and limb trees with only one hand.
Rechargeable Battery
Battery life was the other thing I imagined would aggravate me. Here, too, I was impressed. On a single battery charge, I cut up a fair amount of wood—all of the timber that had fallen into my yard—with some left over. This took roughly 45 minutes to complete.

Two 1500mAh, 20V-capable lithium-ion batteries are included in the box. They can offer a lengthy charge period, eliminating the inconvenience of charging multiple times while cutting the wood.

You won't need to search for a charger compatible with the batteries because you will find one extra in the box. You can always change your battery when it runs out because it charges rather quickly.

Also, the charger automatically switches the system off when the battery is full. This protects the battery from overcharging, which could harm it. The charger and batteries are made to cause you as little hassle as possible.
Pure Copper Motor
The
Saker tiny chainsaw
has a pure copper motor giving it significant power, and this implies that you can use it to cut various types of wood without being concerned about the chainsaw's size.
The copper motor's ability to effectively vent and dissipate heat ensures that the chainsaw won't overheat or burn out, which is another advantage. It can be used for several hours at once.
It is perfect for home carpentry projects, chopping firewood, and trimming hedges. The high-quality, wear-resistant steel chain will produce fast, fluid sawing combined with a strong motor.
Using one of my large saws on all the small debris that dropped into my yard would have been excessive. Although it would have taken considerably longer, I could have used a little hand saw or pruners. Indeed, the Saker was the best tool for the job. I can't wait to use it to trim some of my fruit trees and toss it in the vehicle when I go camping.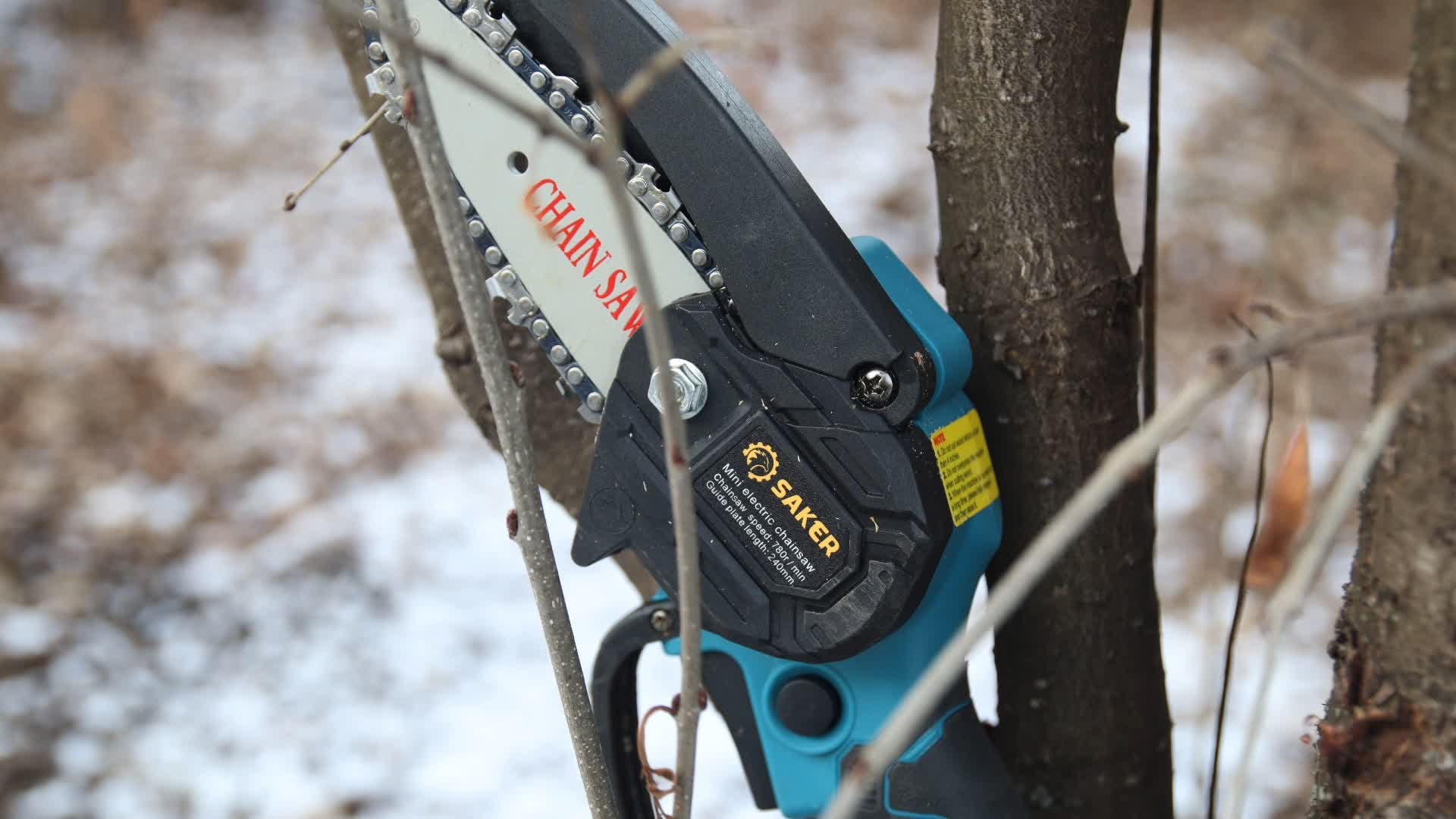 Design and Features
The
Saker small portable chainsaw
is remarkably easy to use with one hand and quite comfortable. You can use one hand to push the trigger (the saw won't run if you pull the trigger). Also, you can press the safety lock instantly with your thumb. The trigger/hand guard protects the knuckles of your "saw hand" and prevents accidental trigger application.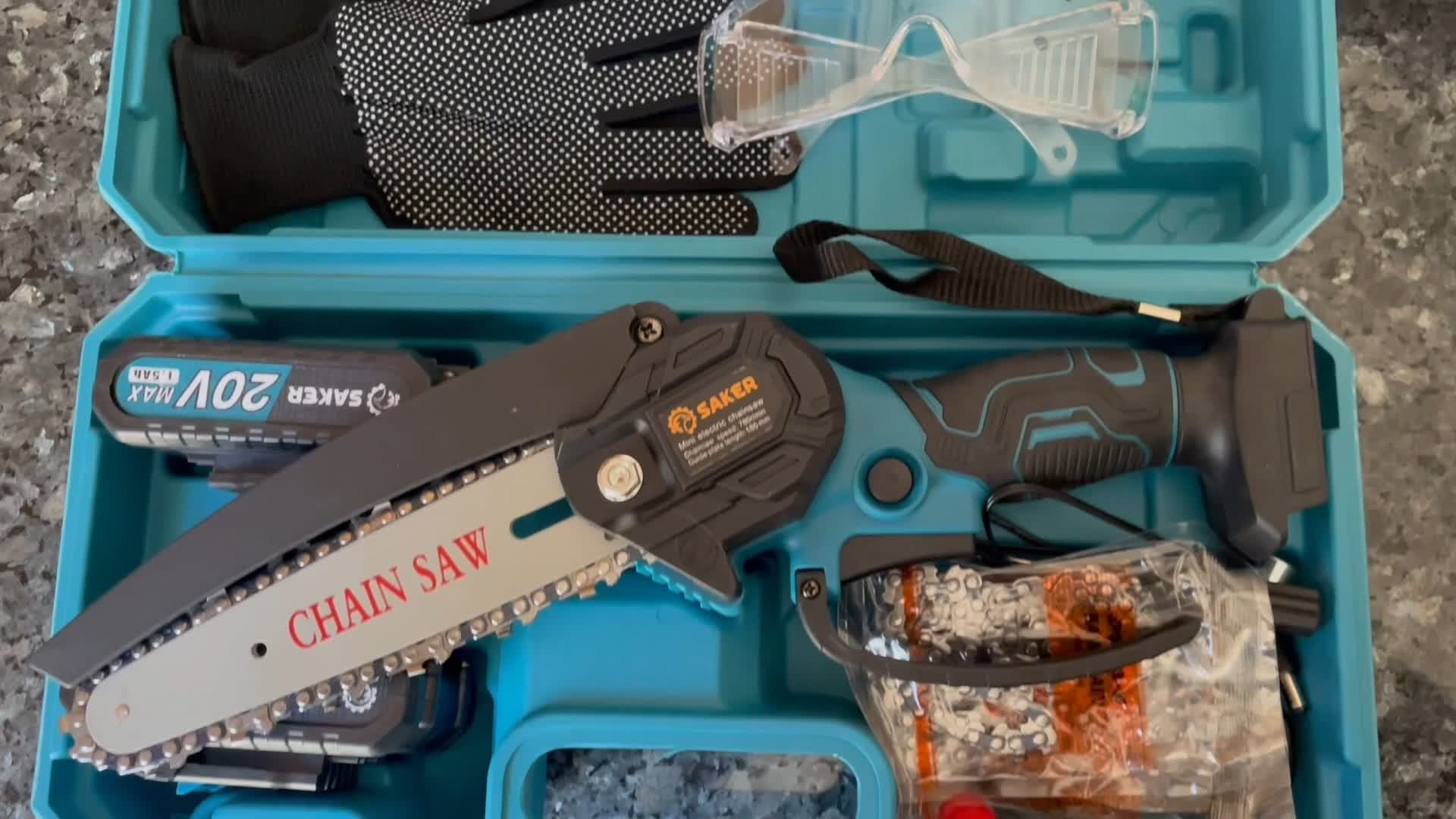 A wrist strap that would be useful if you were going up a ladder or a tree hangs from the bottom of the handle. It doesn't have a variable-speed motor, but that's okay because a chainsaw is typically operated at full power. Given that you'll likely be holding the branch you're cutting with the other, the
Saker tiny chainsaw's
one-handed design is advantageous. A safety guard is present on the upper portion of the blade; it is spring-loaded and is pulled aside while cutting.
Customer Reviews
Jason H.

This mini portable chainsaw performs an incredible job. It is easy to carry and handle and makes clean and good cuts.
Jason H.

Perfect handling grip and lightweight body make carrying around and cutting trees easier. Moreover, this machine will reduce your efforts and get the work hours in minutes.
Handy Man

Lightweight and easy to carry. Perfect for my garden.
Where Can I Buy Mini Portable Chainsaw by Saker?
You can buy
Saker's mini portable chainsaw
on the official website. Although there is no discount or sale, the product is budget-friendly. Saker's portable chainsaw is easy to carry and use compared to competitors.
Summary
The
Saker Mini and Portable Chainsaw
is a top-selling product in the mini chainsaw category. Although it shares many similarities with other selections in this price range, it consistently sells the most copies.
The Saker Mini Chainsaw includes two 20V 1500mAh rechargeable lithium batteries, which is excellent. Always have at least two batteries to charge one while the other is in use.
Although only one chain is included, you will receive a screwdriver, bar cover, charger, and an oil container (without any oil or lubrication). A Saker's pure copper motor with the power to sever hardwood is underneath the hood. Of course, Saker has also included Chain options to meet your additional needs.
Order Saker Mini Chainsaw NOW!