SAKER MULTI-FUNCTION SCRIBING TOOL
This Multi-function Scribing Tool is
Perfect For: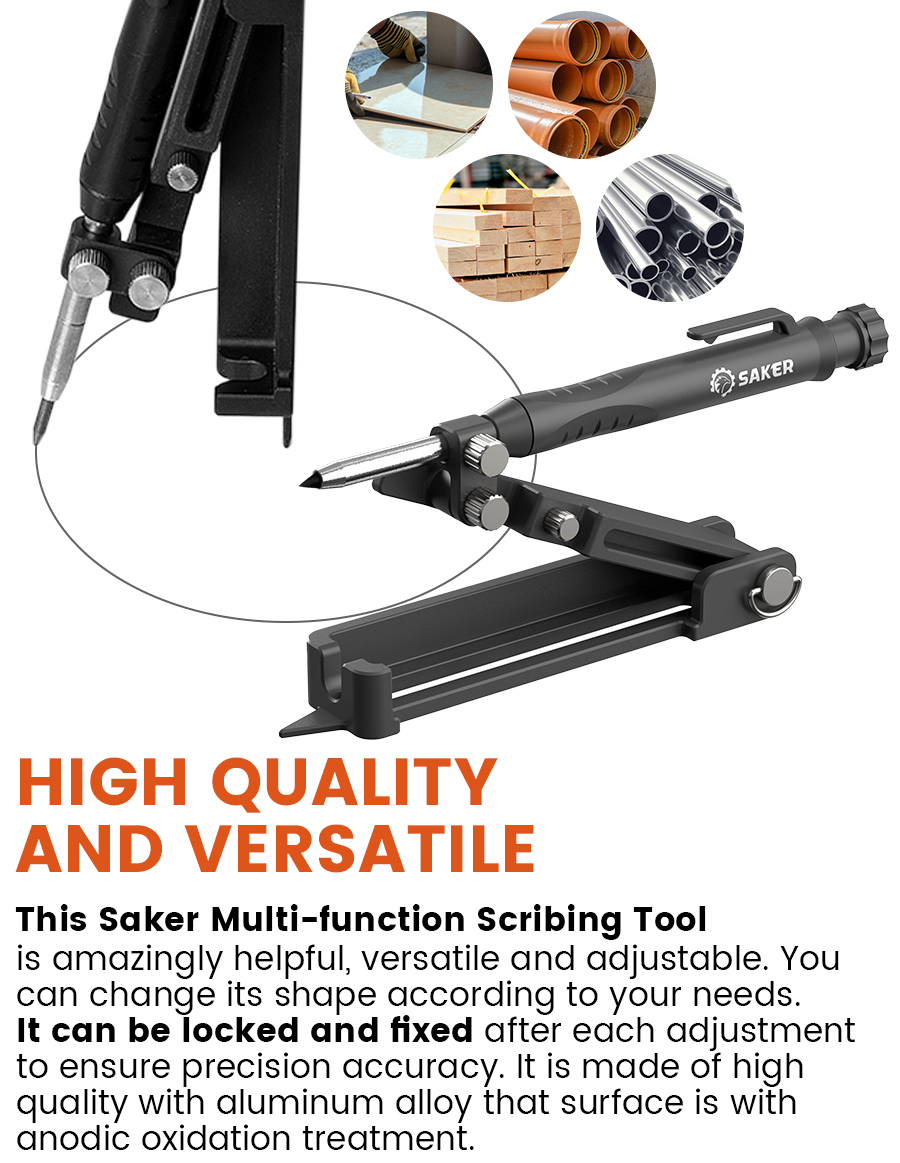 Contouring & Scribing Edges

Doors, trim, cabinets, and boards

Compassing

Work as a compass over many materials

Edge Rule Mode

Easily maintain consistent offsets

Multi-function

Over 15 uses, including tiling and paving, etc

Storage

Shirt belt clip design makes it easy to carry & store.

Compact

Small size & light weight, put it directly in your pocket
America's New Favorite Tool Featured On:

Precise & Accurate Scribing on Architectural Moldings, Trim, and Cabinet
With the Saker Multi-function Scribing Tool, no matter you want to contour, scribe, compasses, or edge rule, it can be very helpful. This amazing tool won't regret you! You can change its shape according to your needs, only need to change the tightness of the pencil holder and nut to achieve different shapes to complete the demand.
Your projects are done faster, have less clean up, and look up to 10x more professional.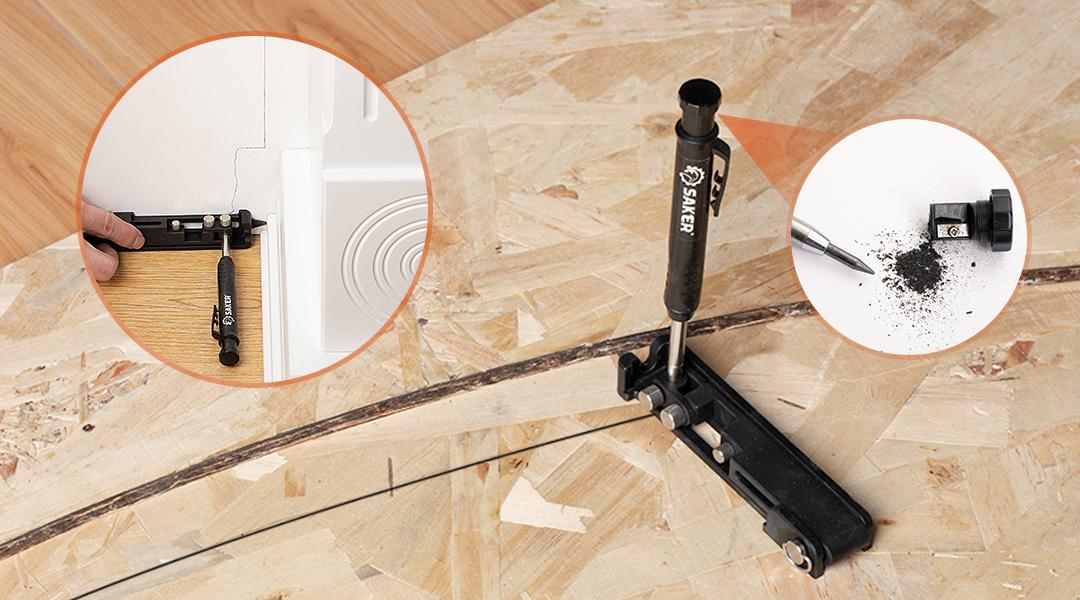 Versatile Adjustment

Angle & spacing adjustment to ensure accuracy and use conveniently

High-quality Material

High-quality aluminum alloy helps to extend the service life of the tool

Light And Compact

The size of the product is very small, the weight is also very light

Easy To Use

The scale of woodworking linear arc scriber tool is clearly visible

Wide Application

Suitable for tiling and paving, stud walls, gables and paneling, etc
Save Energy, Time & Space
When you use Saker Multi-function Scribing Tool, you will be able to easily and accurately maintain consistent scribe offsets by keeping it parallel to the surface. The scale is clearly visible, easy to measure, with high precision and more professional. It can be used as a depth gauge tool, which is fast, easy to operate and has a balanced feel.
Why do Professionals Only Trust Saker?
Over 86,000 construction journeymen and foremen around the USA praise Saker for the innovative, efficient design. Other scribing tool has limited functionality and requires you to have additional tools to complete the entire project. Saker uses an adjustable scribing tool that can perform multiple tasks such as contouring, scribing, compassing, and edging.
Saker Multi-function Scribing Tool
Innovative shirt belt clip design
With built-in sharpener
Each pack comes with 6 spare leads
Versatile adjustment for accuracy
Strong and durable
30 Day Satisfaction Guarantee
Other Scribing Tool
Can not free your hands
Additional pencil sharpener required
Requires additional purchase of leads
Unable to adjust the angle
Made with flimsy plastic
No guarantee for customers
Saker Multi-function Scribing Tool is So Easy to Use
STEP 1

Prepare your door, cupboard or board. Loosen the screw cap, place the pencil in the holder, tighten the screw cap and prepare for use.

STEP 2

With the compass pin as the center, start your contouring, parallel marking, profile scribing, compass, and more project.

STEP 3

Cut your door, cupboard or board according to the lines previously drawn to get the shape you want.
Purchase Saker Multi-function Scribing Tool!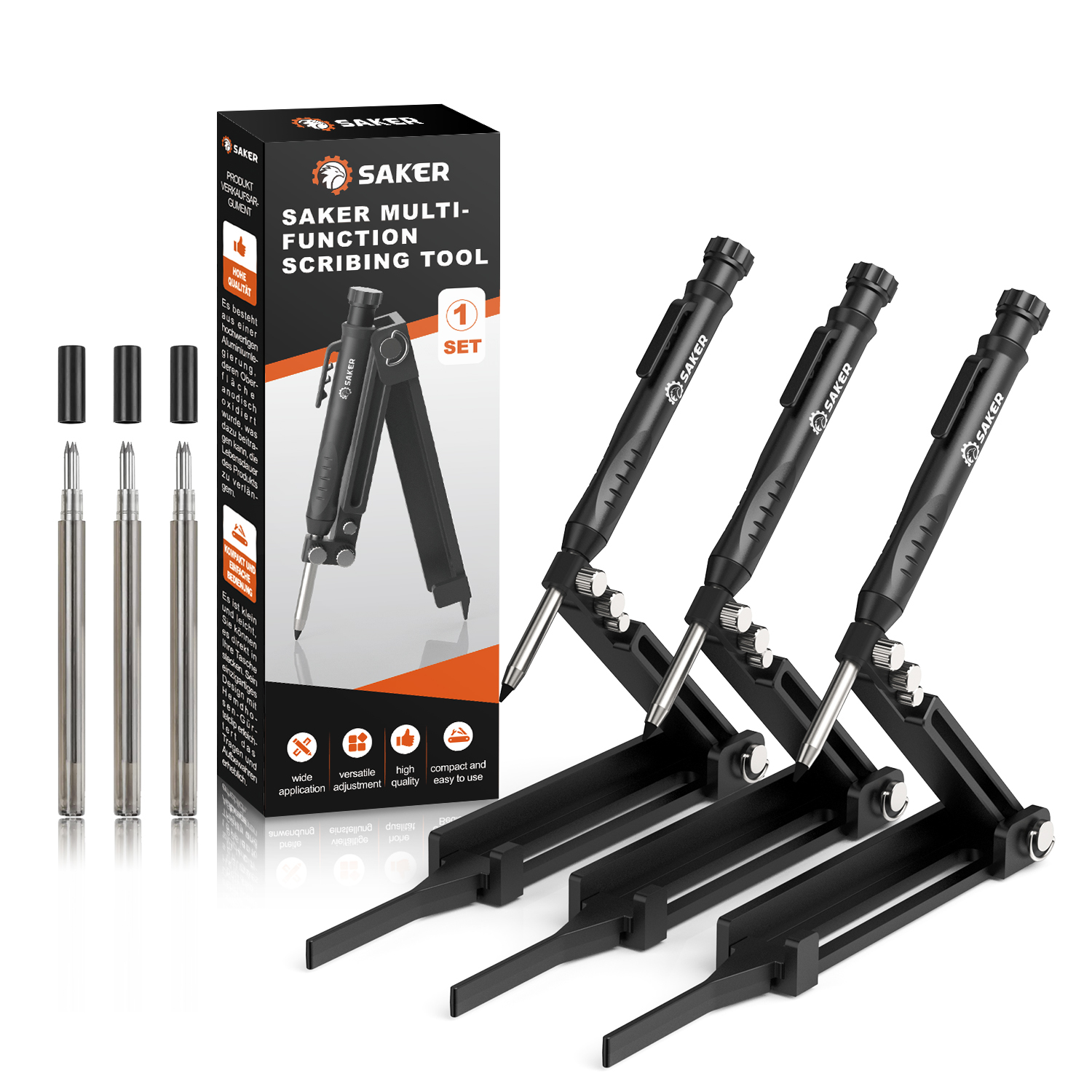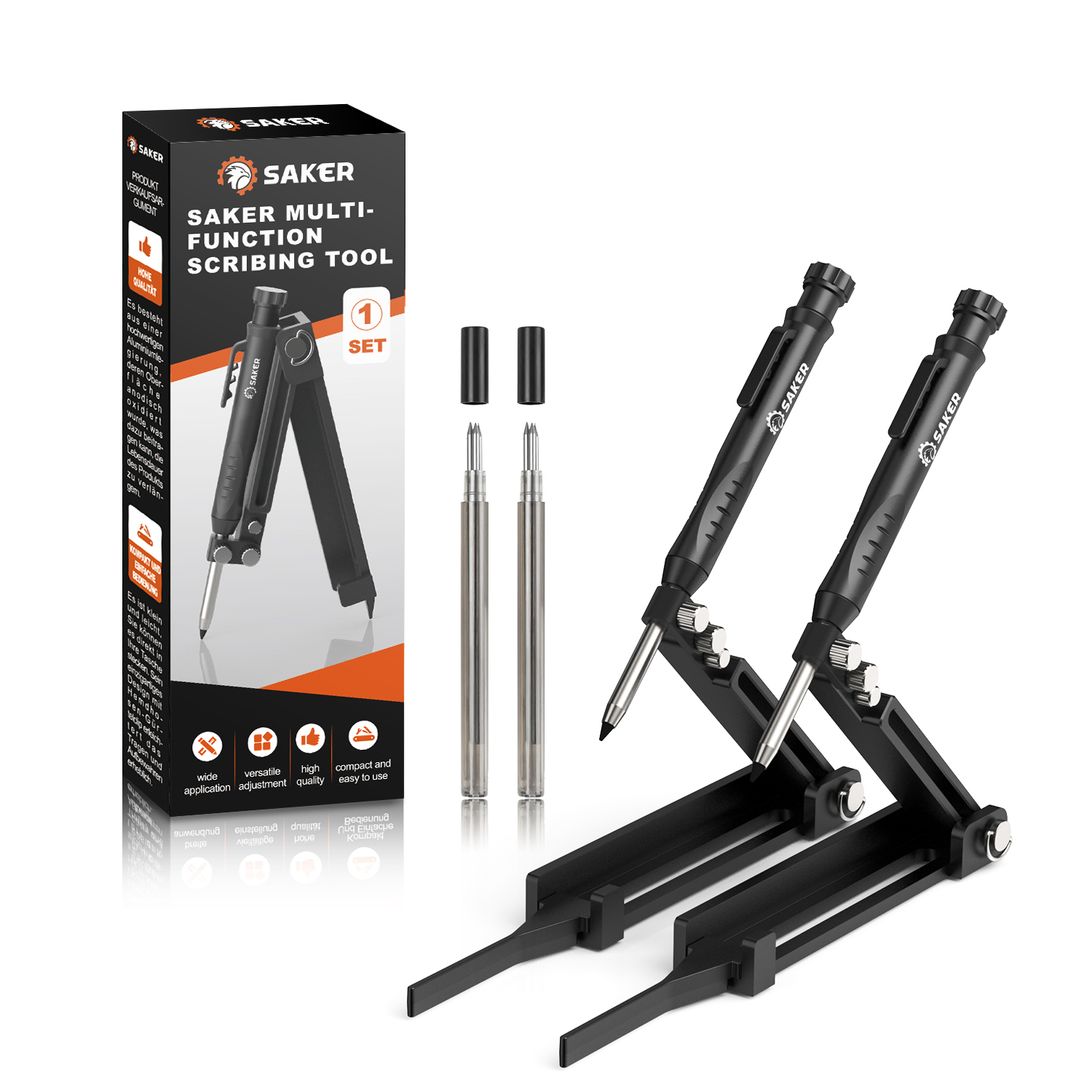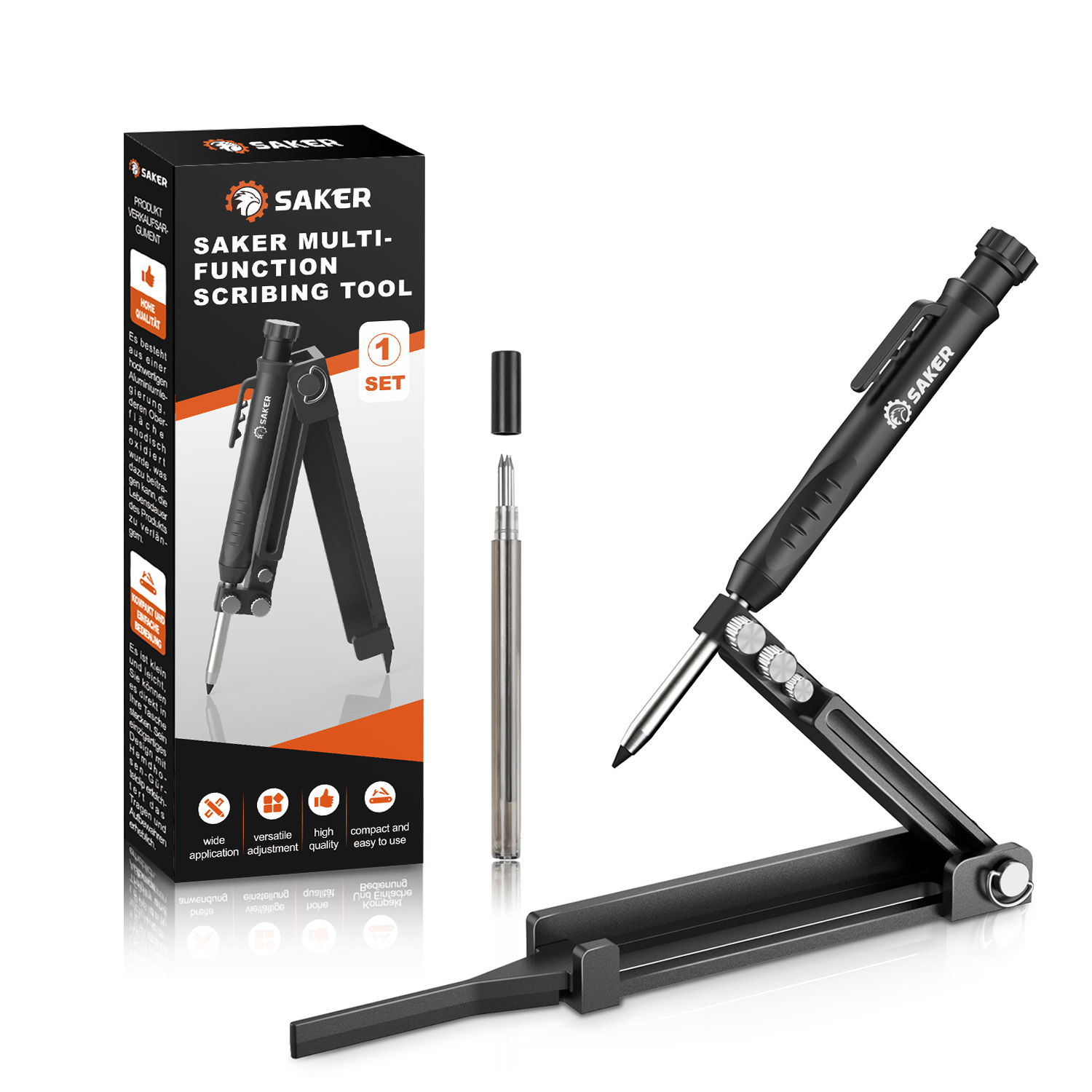 About Saker
Saker products were developed by real life professionals in construction. We understand the struggles handy people face in projects both at home and on the work site. Our products are designed specifically to be easy to use for everyone. We produce Saker products only with the highest quality of materials that are specifically vetted for durability and functionality.
Saker has over 64,000 positive reviews!
See what professional construction people and home improvement enthusiasts say about Saker Multi-function Scribing Tool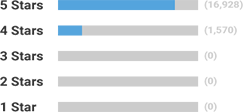 98%
of customers said they would buy again & recommend Saker to others.


My best friend is a contractor. It was painful when he had to deal with some irregular corners. I bought him this as a present and he lost his mind! He tried it out immediately and looked like a little kid at Christmas. He said this is the best version of this type of tool he has ever used. I watched him make some very impressive cuts thanks to it.
Simon F. Home Improvement Enthusiast from Memphis, Tennessee


I bought this for my husband who does construction, but he can use this at home as well as on the job. It makes the job of cutting wood & tile pieces so easy and fit perfectly around cabinets, toilets, corners, sink pedestals, pipes, etc. Great tool.
Hailey R. Dad and Handyman from Richmond, Virginia


I bought 3 of these for Christmas. We bought this to cut the boards we use for decking in the corners, it's a weird design so it's hard to cut. And it helps a lot! My husband is decking the house right now and this will help a lot with the jam area and cutting around the box openings!
Karly T. Construction Foreman from Montgomery, Alabama