SAKER MINI CHAINSAW
This Saker Mini Chainsaw Advantages: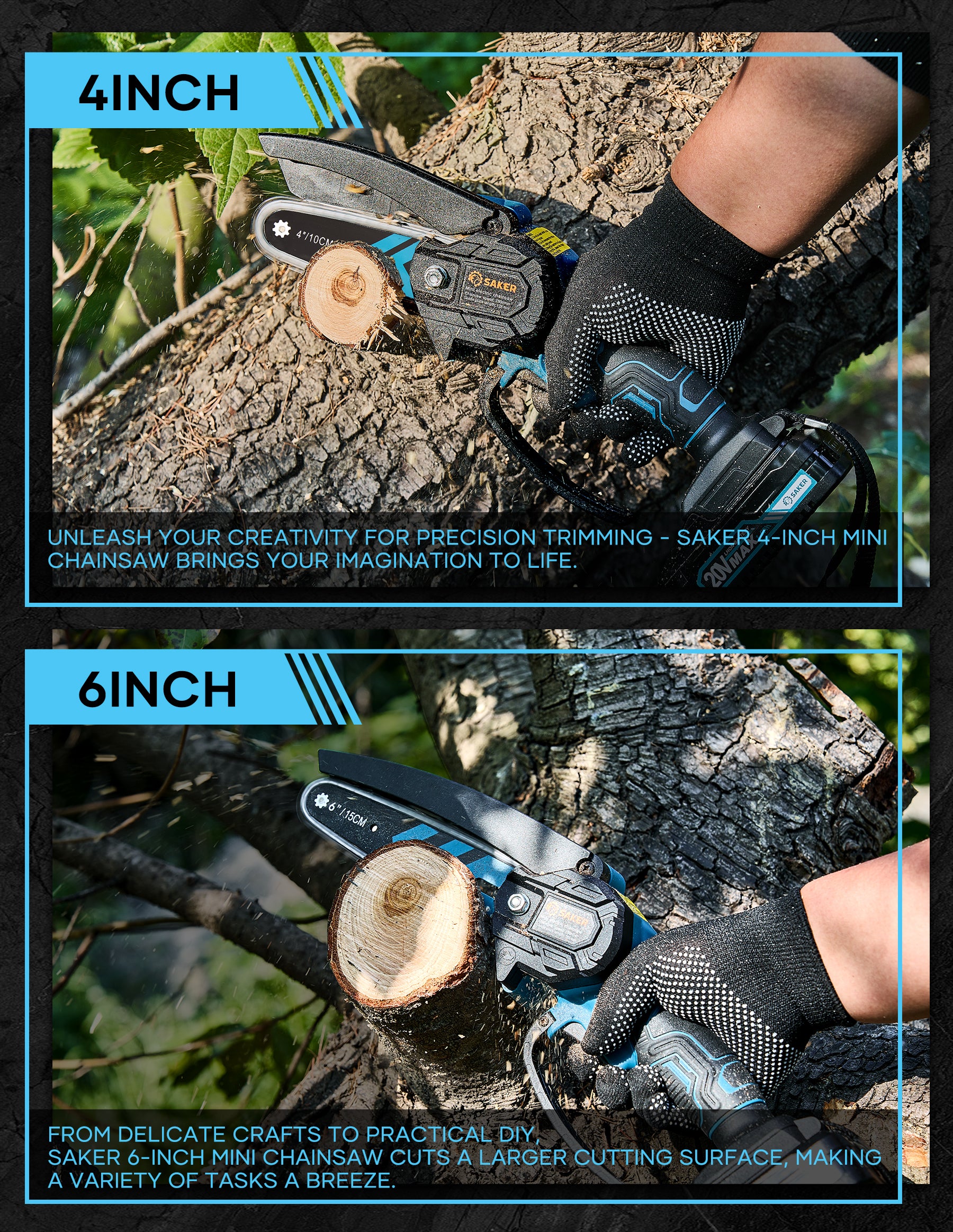 Safe and Reliable

The fuselage is designed with a switch lock, which can prevent accidental activation to protect you and your family.

Rechargeable Battery

Equipped with a 20V 1500mAh rechargeable lithium battery, it can be used for a long time.

High Performance

The chainsaw has a strong dynamic system and a pure copper motor, which you can perform different cutting tasks.

Ultra Efficient Motor

The pure copper motor is better at dissipating heat, and it takes about 10s to cut a 15cm diameter log.

Rugged Design

The hardened guide chain and thickened dust baffle over the saw make cutting faster, cleaner, and more powerful.
America's New Favorite Tool Featured On:

Cut Branches & Woods Easily
The Saker mini chainsaw is so easy to operate and control, you only need to use one hand. You'll enjoy better maneuverability for harder-to-reach projects in gardening and landscaping, without having to worry about a huge, bulky chainsaw weighing you down. That's why over 64,000+ customers have fallen in love with yard work - Saker makes it easy and fun!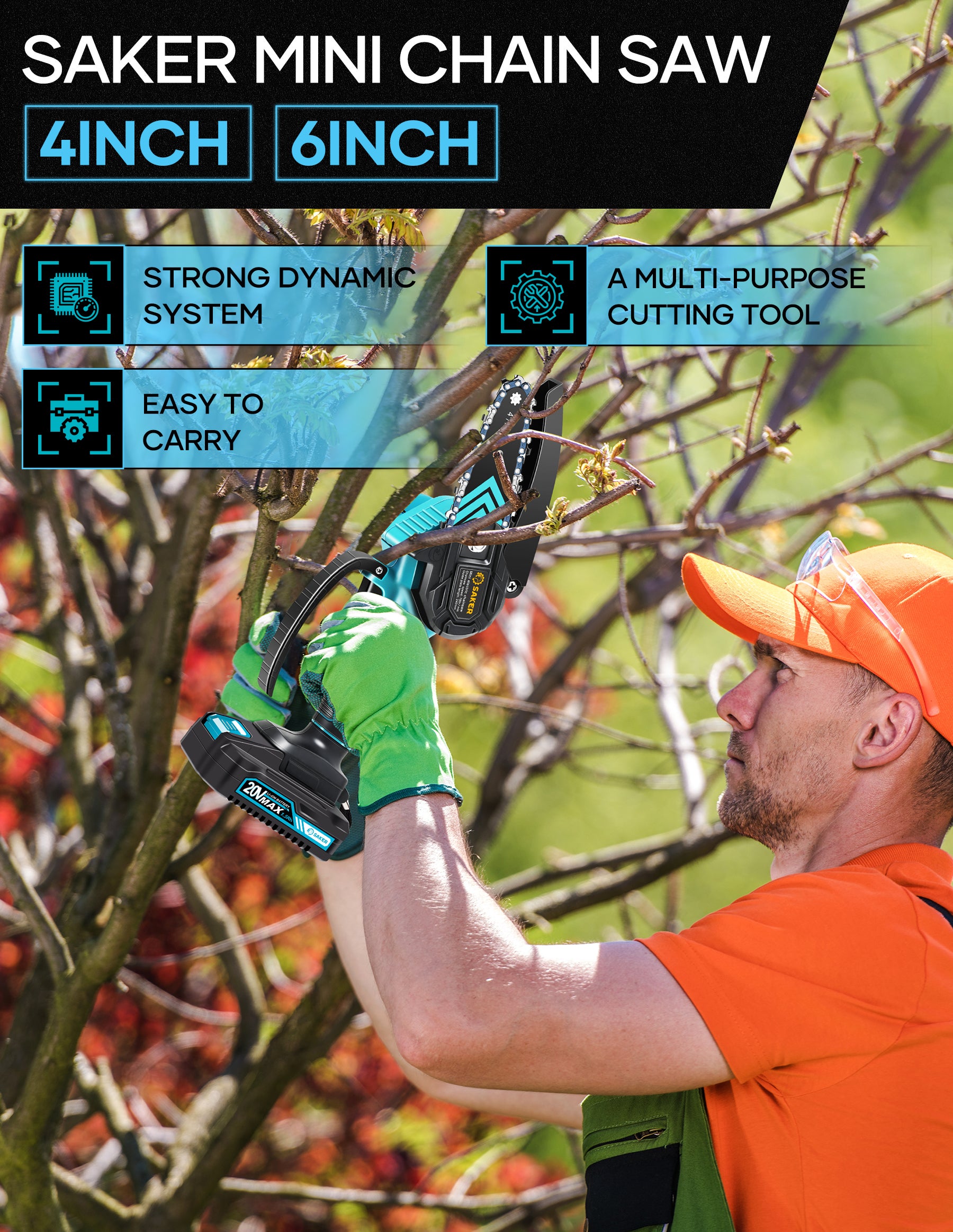 Why Choose Saker Mini Chainsaw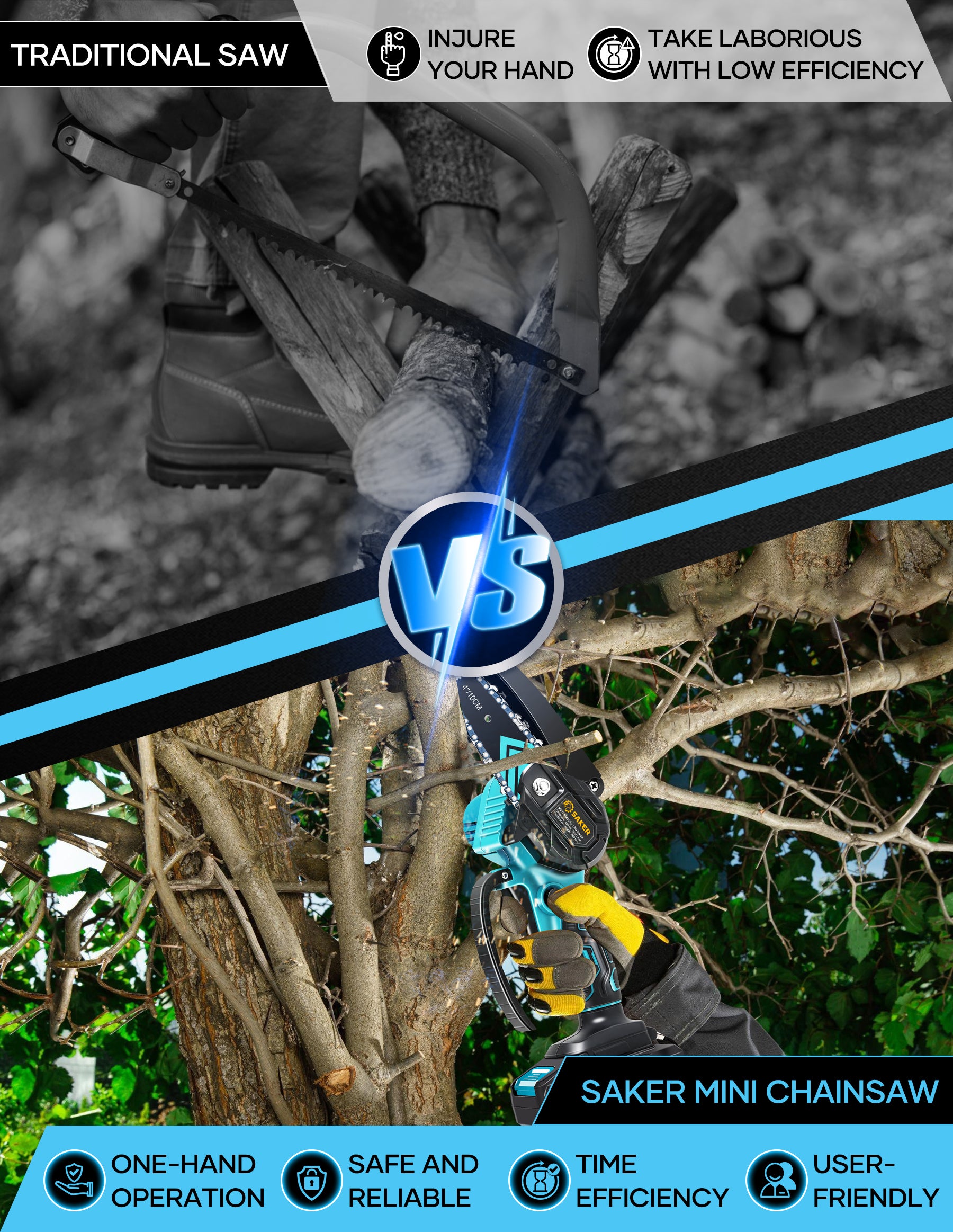 Saker Mini Chainsaw is So Easy to Use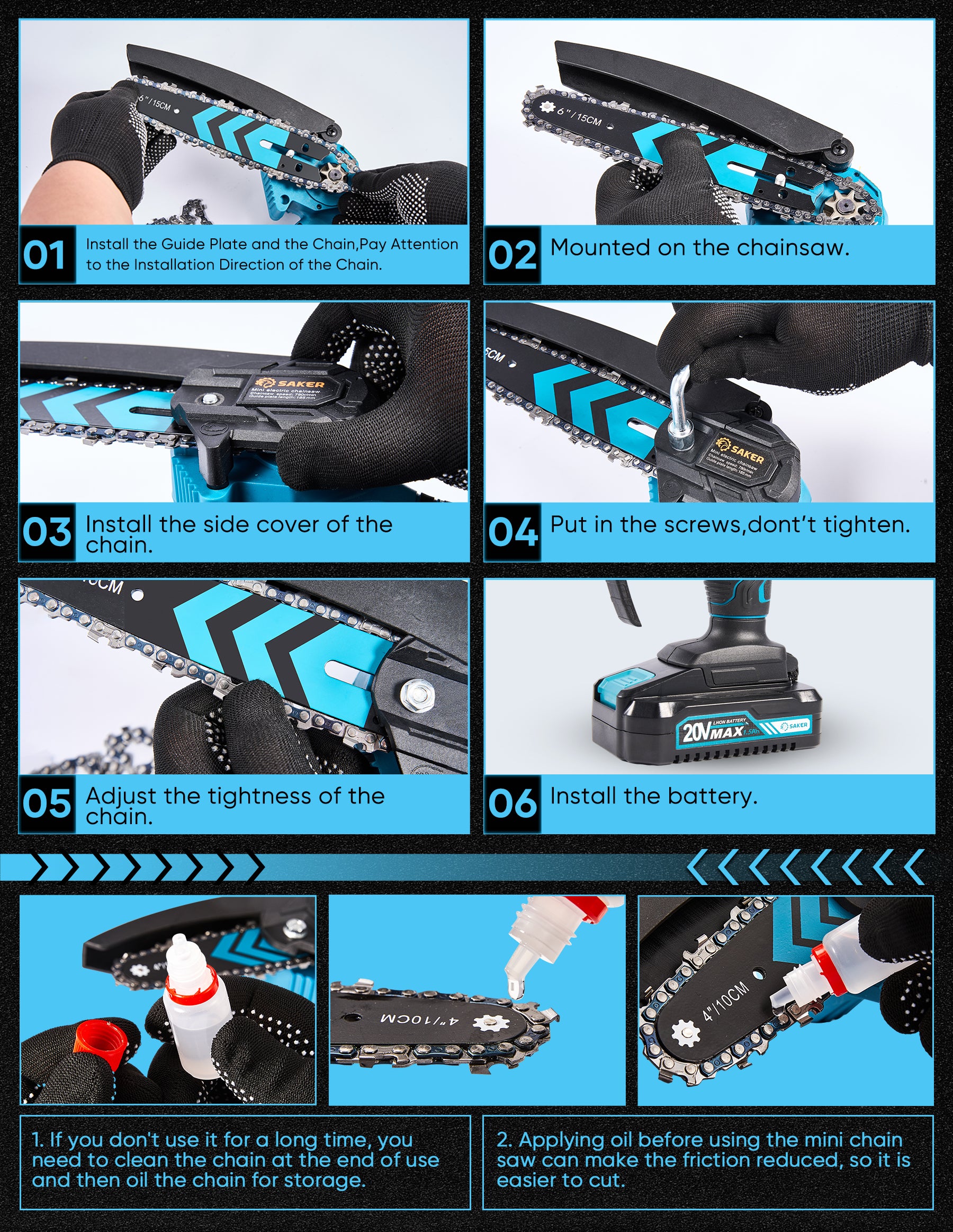 Purchase Saker Mini Chainsaw!
Climate Pledge Friendly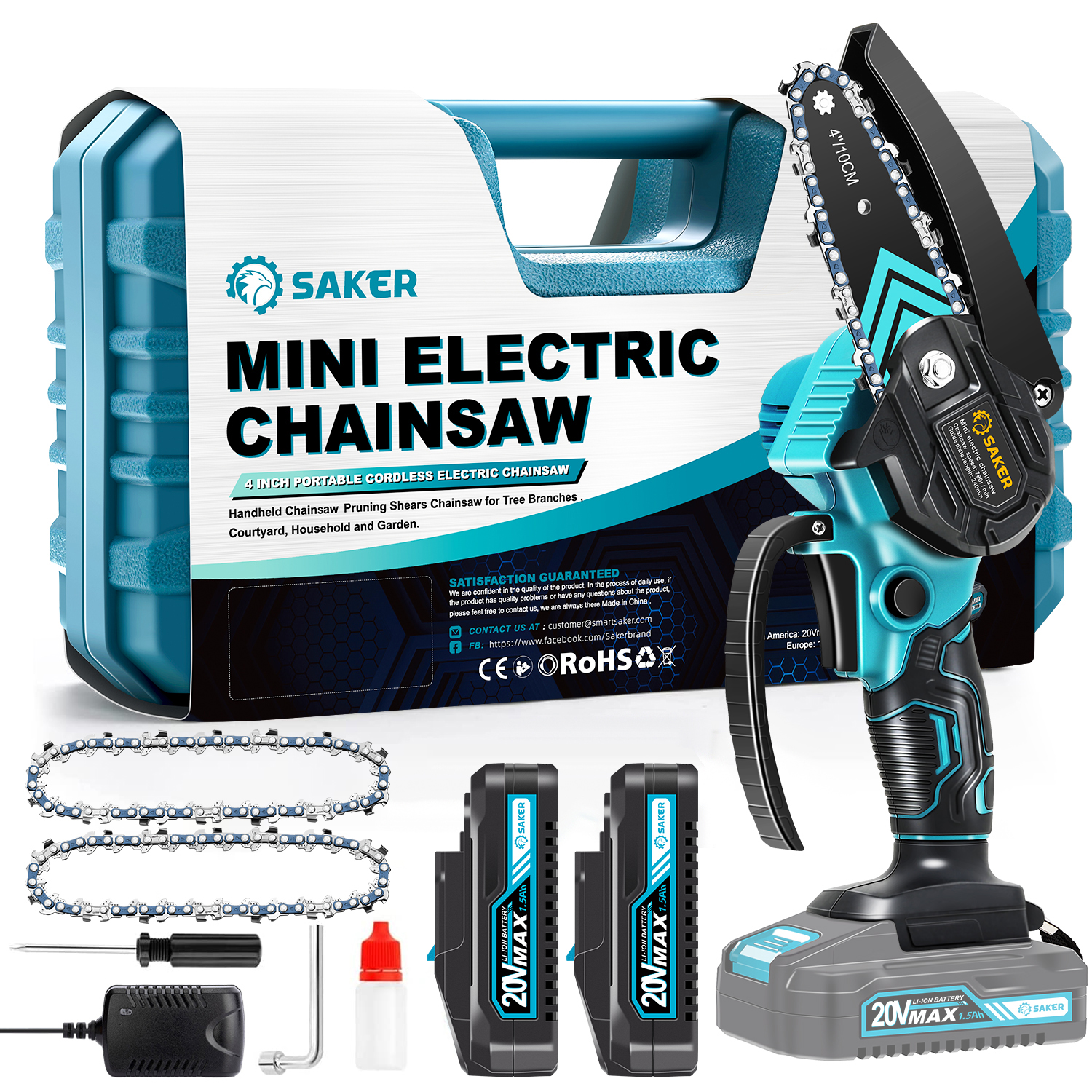 Saker Mini Chainsaw 4 Inch + 2 * Batteries + 1 * Toolbox + 2 * Chains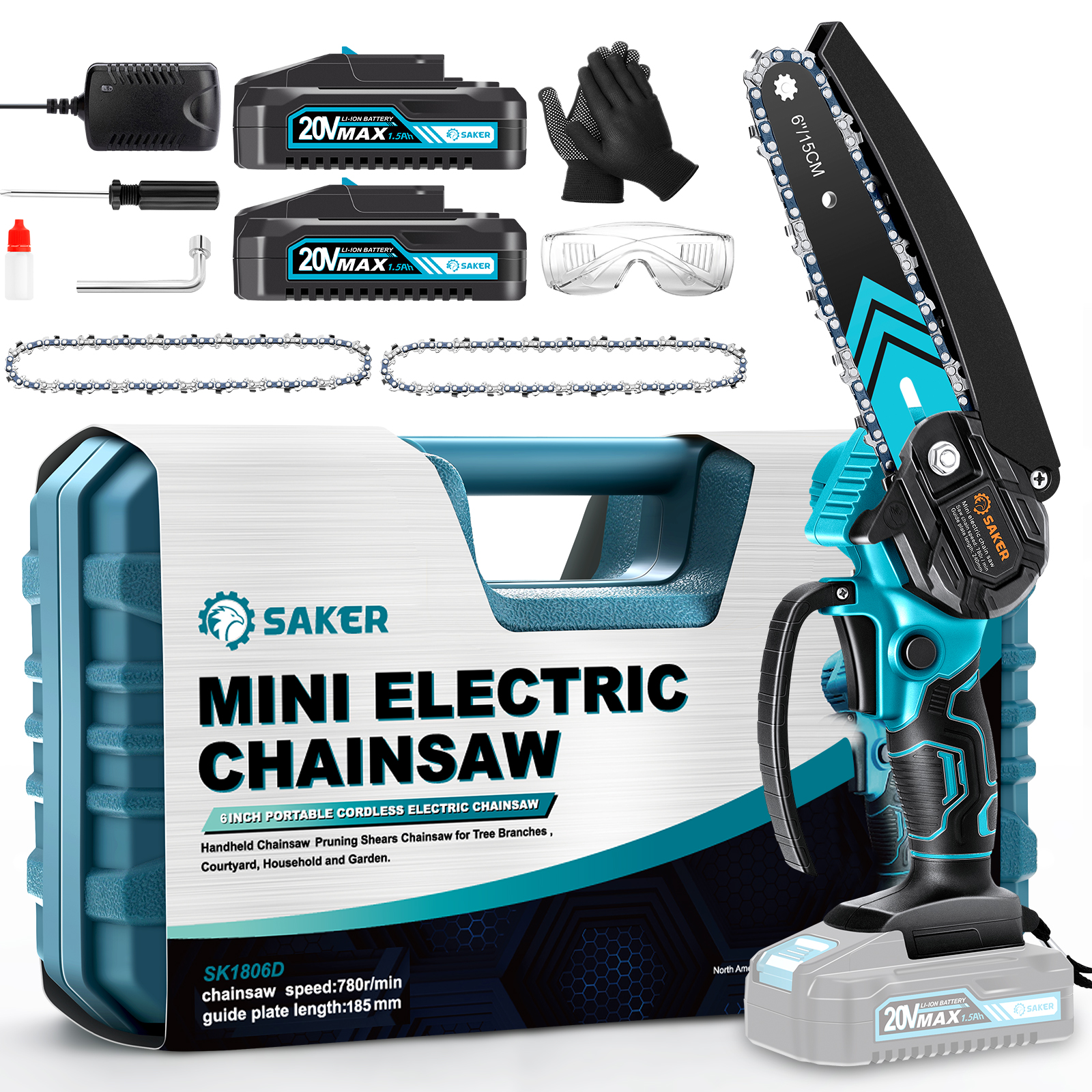 Saker Mini Chainsaw 6 Inch + 2 * Batteries + 1 * Toolbox + 2 * Chains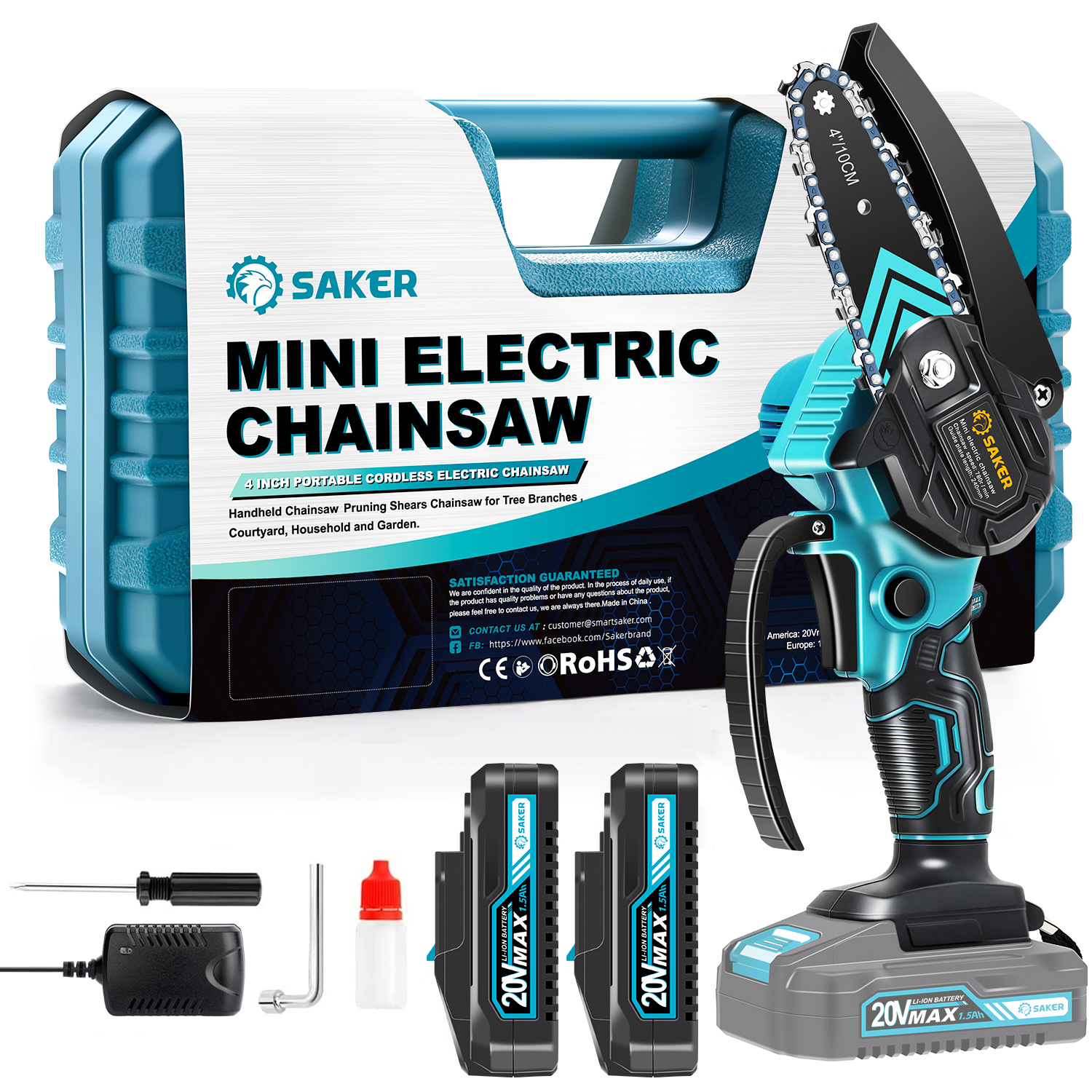 Saker Mini Chainsaw 4 Inch + 2 * Batteries + 1 * Toolbox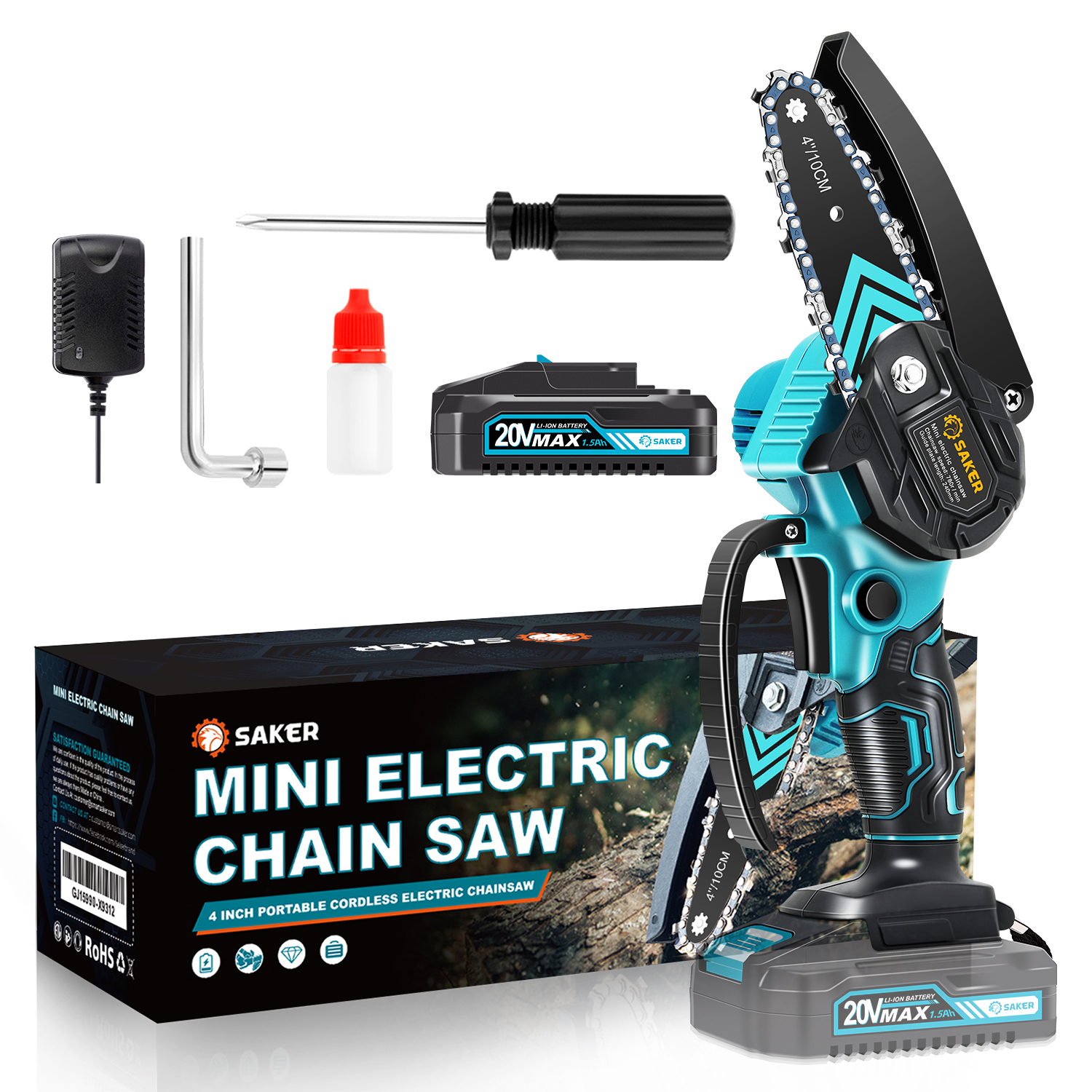 Saker Mini Chainsaw 4 Inch + 1 * Battery
Important Note: Please refrain from providing a P.O. Box address when placing your order for this product, as its size exceeds the limitations for delivery to such addresses.
About Saker
Saker is a company that designs and manufactures professional-grade tools for construction work and home maintenance. With over 20 years of experience in the industry and over 2 million customers served since our conception, we have developed a reputation of trust and quality with our valued customers.
Our quality and efficient products are easy to use for everyday people but strong enough to make a professional builder proud. Our award-winning customer service cannot be beaten, and our team of knowledgeable handy people is always ready to help you with your DIY project!
Saker Has Over 64,000 Positive Reviews!
See what customers have to say about their experience with the Saker Mini Chainsaw.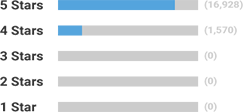 98%
of customers said they would buy again & recommend Saker to others.


I got one of these for my mom who has a big yard in Pennsylvania. It's really easy for her to handle and it works great on small branches around the yard. She really loves it!
Nikolas R.


I'll always love my Motoserra, but it doesn't make sense to use it for smaller cutting like trimming around my yard. I use a lot of Saker's products and you can always be sure they're the best quality.
Turner M.


This little guy will definitely get the job done! It's surprisingly quiet, makes a good and clean cut, and it's really easy for me to handle.
Jason H.