SAKER MINI CHAINSAW NEWS
Written by: Chris Wilson,
Tuesday, March, 22, 2022
This really is the only way to split kindling. It's the ultimate tool that anyone can safely use. ——Lila R.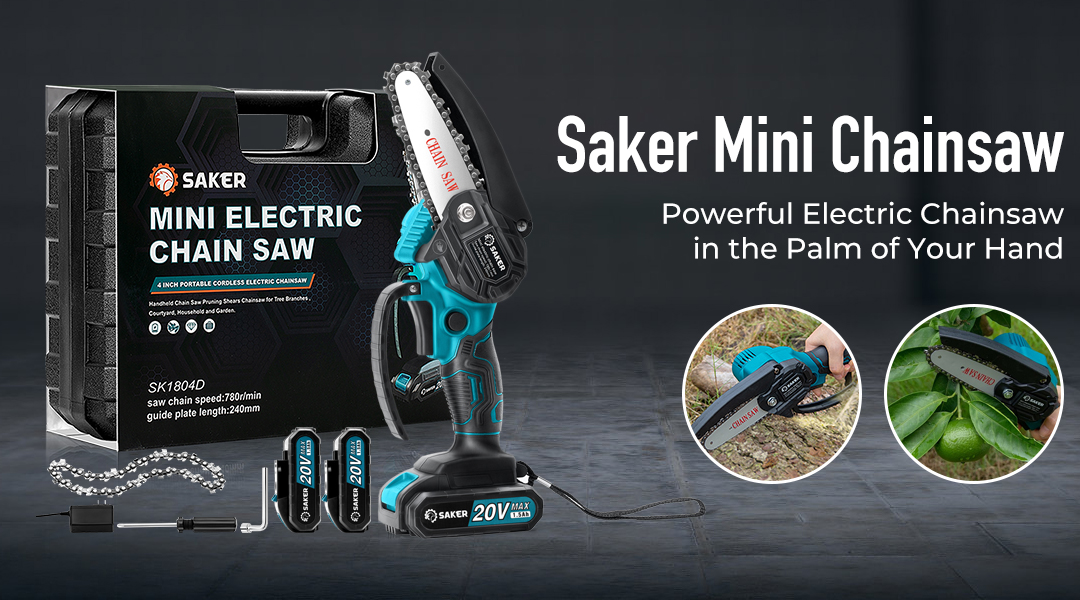 If you are someone like me who has a few trees in your house, here and there, then you know the frustration of dealing with overgrown branches. And if there is anything that has made my life easier as a homeowner in the past few months, then it will be the Saker Mini Chainsaw.
When getting the chainsaw, my main goal was to trim the branches and keep my yard at its finest aesthetic possible. And this chainsaw helped me achieve that with its dynamic system.
Without any further ado, let us dive right in and see why the Saker Mini Chainsaw is my go-to choice when it comes to pruning, cutting, and gardening.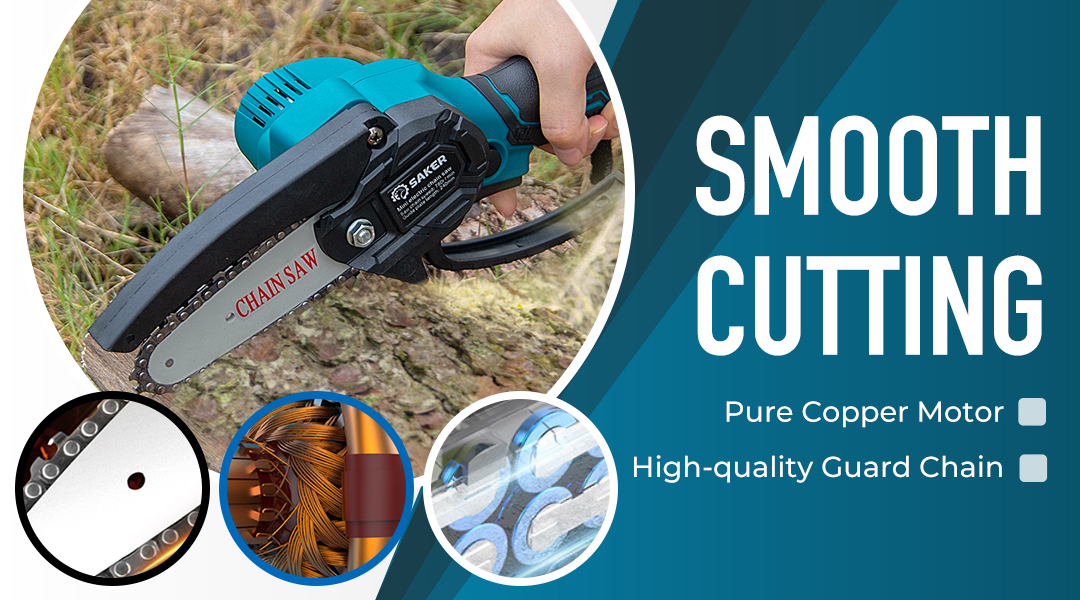 We are going to discuss about the advantage of the mini size later. Because if you use the mini saw with its dynamic solid system, you will not be able to imagine that it has such a small size.
For instance, the thing I loved about the chainsaw was its high-quality guard chain. If you are a chainsaw user, you already know how important the quality of the guard chain is. Regardless of how powerful the device you have, it will not offer a good cutting experience if you do not have quality chains.
However, the Saker Mini Chainsaw offers one of the smoothest cutting I have ever experienced. And with the pure copper motor, which is relatively robust considering its size, cutting down tree branches felt like a slice of cake.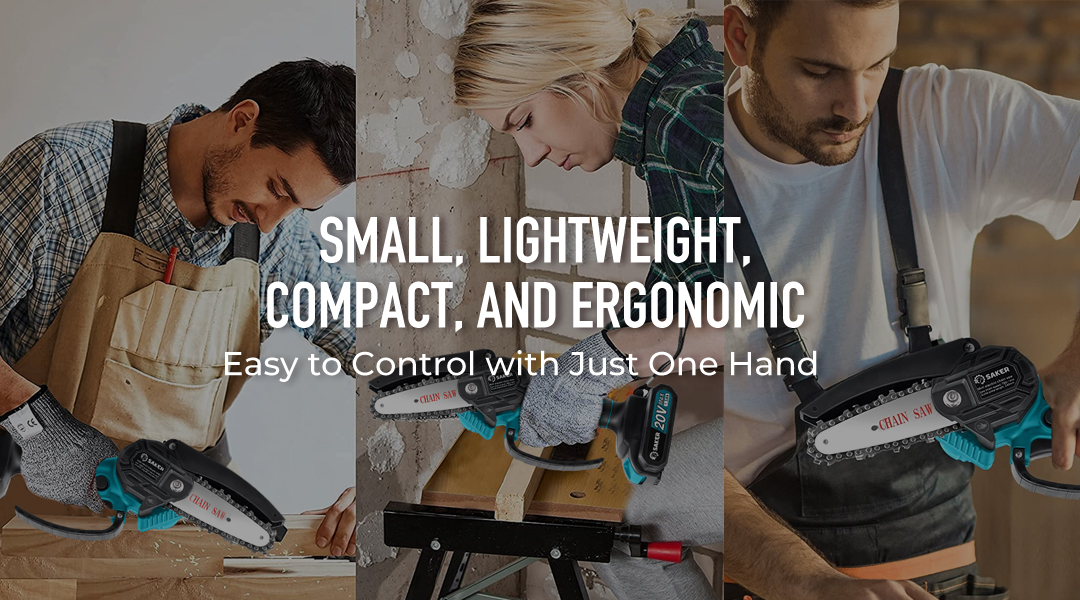 Even though many of us have trees that need pruning, the chainsaw is not for everyone. A regular chainsaw can weigh anywhere from 15 to 20 pounds depending on the model. And handling such a heavy tool that cuts down things at rapid speed is not everyone's cup of tea.
But what if the chainsaw was only 1.1 KG? That is precisely the weight of the Saker Mini Chainsaw. With such a lightweight and 4-inch blade, I was able to operate it with one hand efficiently. And it also does not cause any fatigue due to long-term use.
Whether it is for temporary work or needs something that even the elderly can control safely, the Saker Mini Chainsaw is the way to go.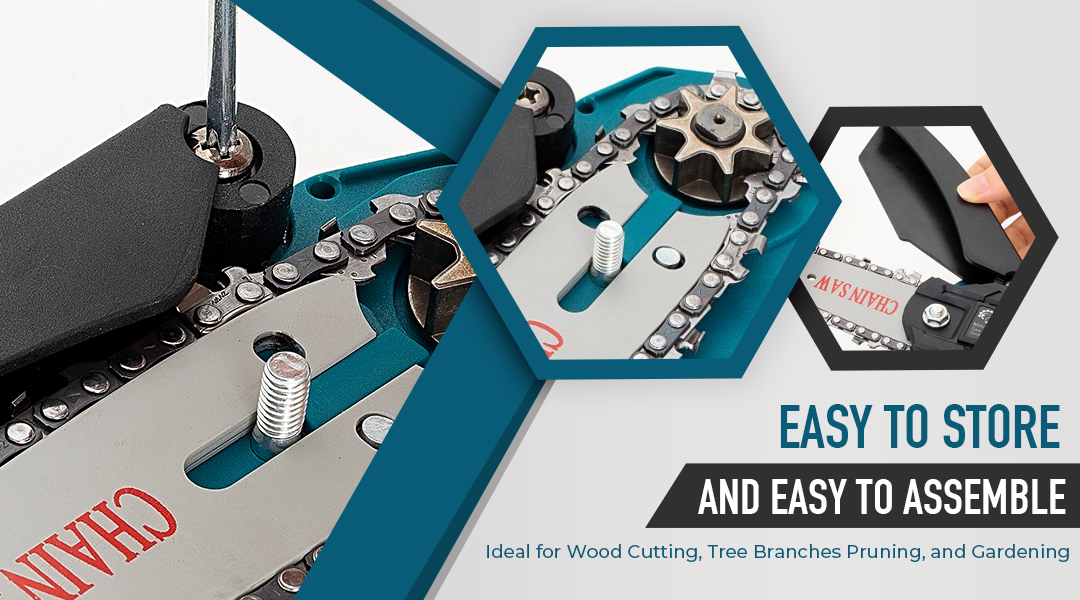 But what more impressive is that you can store it in a small suitcase and keep all the accessories in one place. Whenever you need to use it, you can simply take it out, assemble all the accessories in under one minute, and you will be good to go.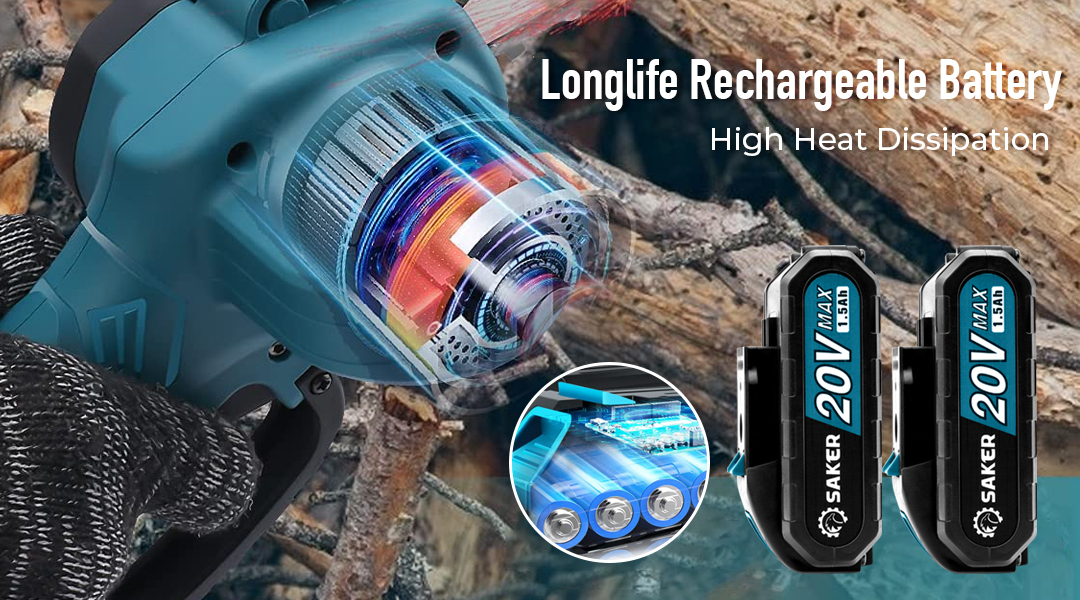 A mini chainsaw is more than just the sheer ability to be portable. You also need a powerful motor to drive it and ensure clean cuts. It needs rechargeable battery functionality to be truly worth the money. And Saker Mini Chainsaw did not back down on this department.
The chainsaw was equipped with a 20 Volt 1500 mAh lithium battery. It charged extremely fast with the charger it came with, and once charged fully, it can be used for a very long time.
Unlike many other chainsaws I use, the Saker Mini Chainsaw did not get high on temperature. The heat dissipation on the being of the tool seemed to be highly efficient and could dissipate most of the heat generated by the motor. Due to it being a pure copper motor, the engine itself was an excellent heat conduction and quickly released heat.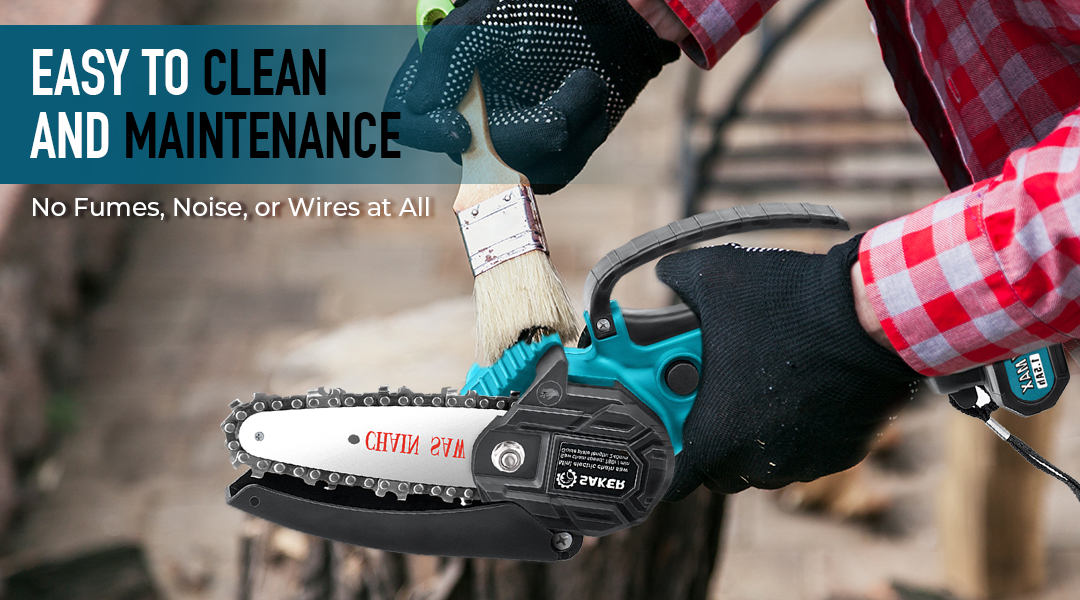 Regardless of how much money you spend on a top-of-the-shelf chainsaw, it is of no use if you can not safely use it due to its weight. But with Saker Mini Chainsaw, you do not need a fuel tank full of the fuel mixture or a massive motor to run it.
Due to its small size, it also needed far less maintenance. As long as the chain is clean, you are good to go. So if you are on the market looking for an easy to use chainsaw solution, opt for the Saker Mini Chainsaw without a single piece of worry on your mind.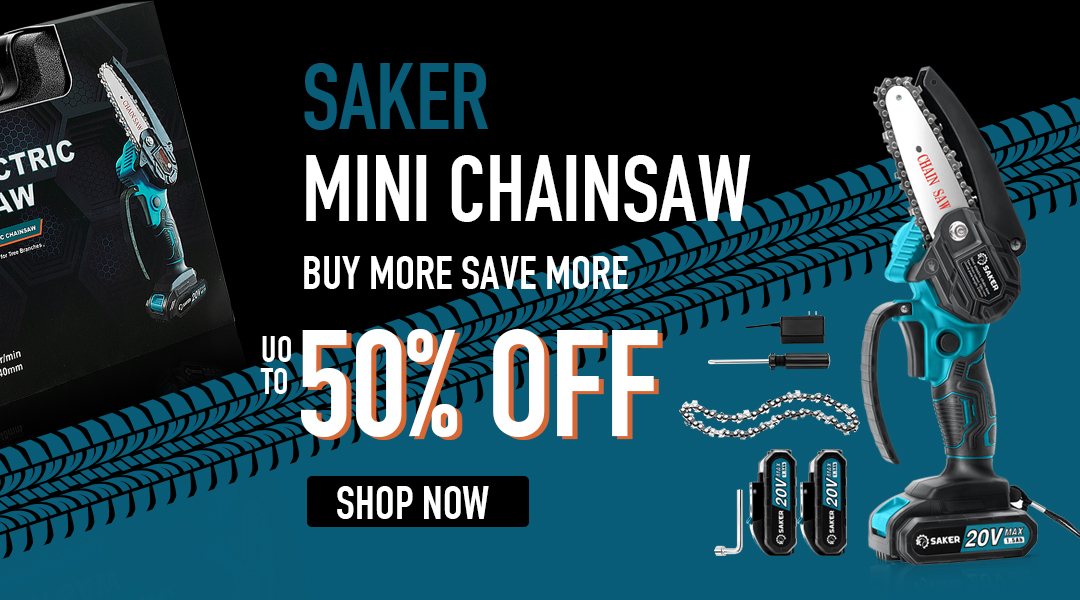 Now that you've discovered how unique, innovative this Saker Mini Chainsaw can help you make smaller wood cutting a breeze, let me show you how easy it is to use it. All you need to do is to follow these 3 steps:
Saker is offering a 50% discount on the product while supplies last, so don't wait too long. There's no saying when this deal will end, so it's a good idea to MAKE YOUR PURCHASE TODAY.
Saker wants to nudge you off the fence by giving you 50% OFF your order.
Check here to see if stock is still available>>
Don't take it from us:
"I wasn't sure what to expect, but honestly the Saker Mini Chainsaw is amazing. It makes quick work of branches and fallen tree limbs. Also great for quick trimming bushes! Highly recommend!"
"This is a great gift! I got the bundle for my dad for father's day and noticed that he keeps it on top of his work bench and actually uses it more than the big chainsaw we have. So happy to be able to get him some he actually wanted."
"Great for cutting up tree limbs. We use this to cut branches into smaller pieces for outdoor firewood. It has good enough power to cut 4 - 6 inch wide limbs with ease. Every toolbox needs it. If you hate yard work, you need this mini chainsaw!"