SAKER MINI CHAINSAW NEWS
Written by: Chris Wilson,
Tuesday, March, 22, 2022
This really is the only way to split kindling. It's the ultimate tool that anyone can safely use. ——Lila R.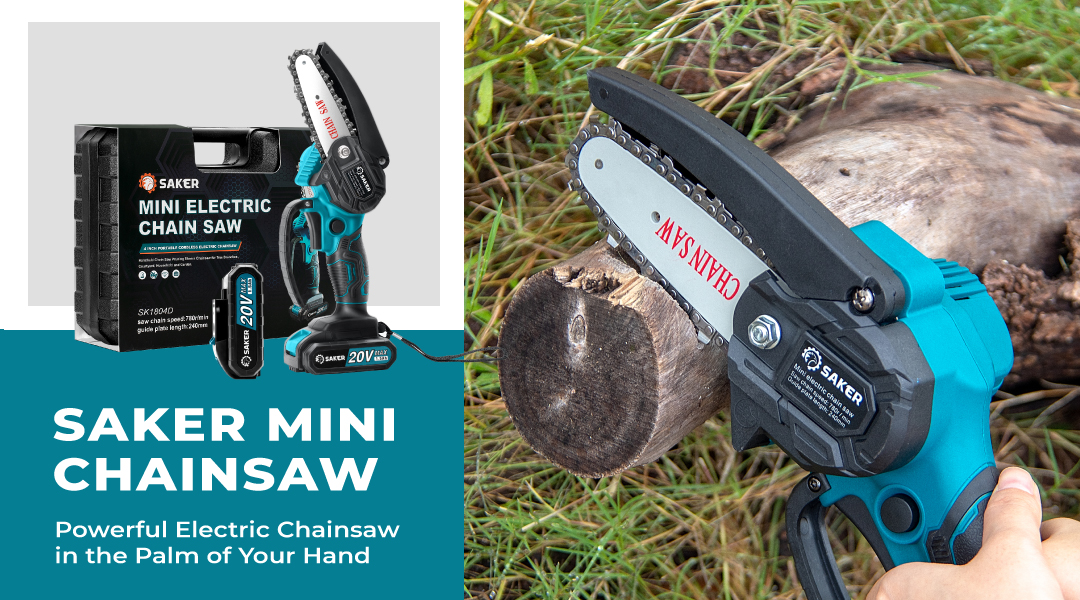 Are you still pruning in the garden with clumsy and slow traditional saws, or dealing with gasoline fumes, noise, or tangled lines with gas powered or corded saws? Can you tolerate a heavy chainsaw?
The smell of freshly cut trees and the grass is absolutely amazing. Wouldn't you agree? However, due to the nasty gasoline fumes from the two-stroke chainsaw, you may lose that joy of smelling the rich wonderful smell.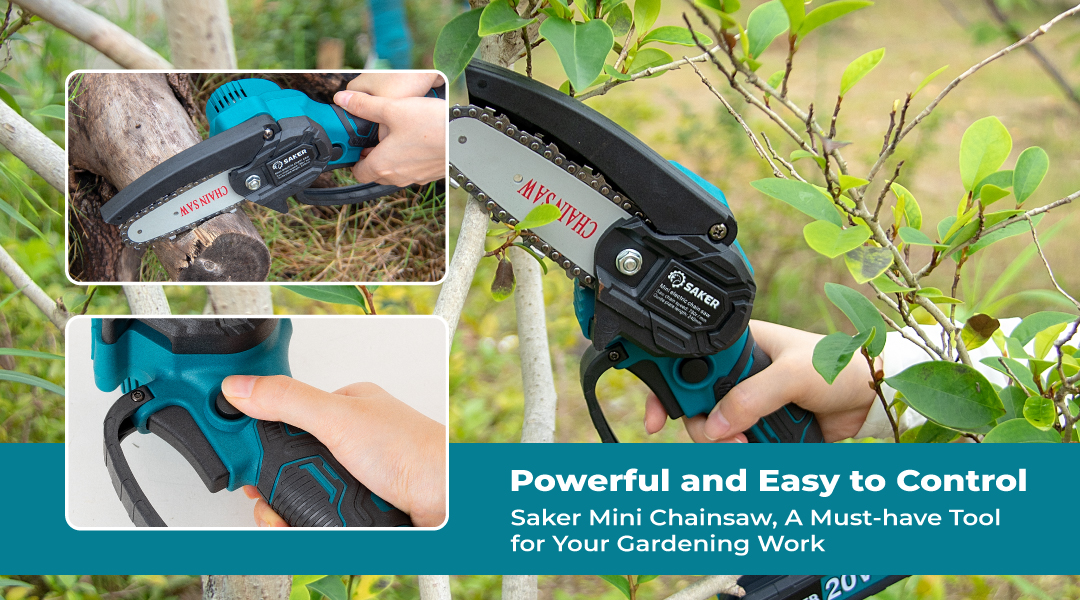 Maybe you are looking for a tool to help you solve these problems, now you don't have to put up with that anymore with the Saker Mini Chainsaw!
The Saker Mini Chainsaw is so easy to operate and control, you only need to use one hand. You'll enjoy better maneuverability for harder-to-reach projects in gardening and landscaping, without having to worry about a huge, bulky chainsaw weighing you down. That's why over 64,000+ customers have fallen in love with yard work - Saker makes it easy and fun!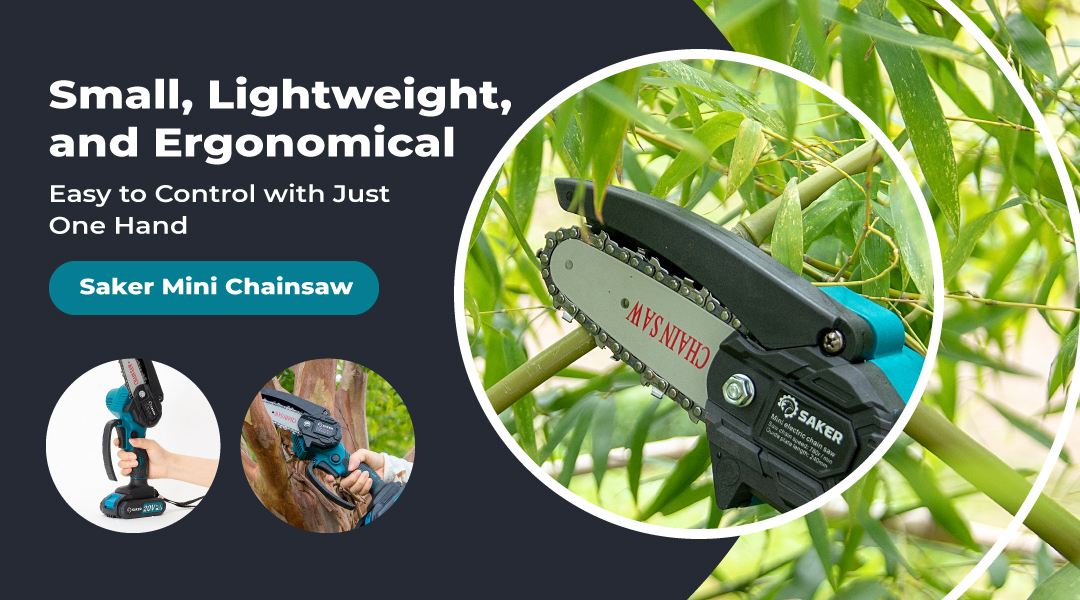 It's easy to use and makes trimming tasks a breeze! You can hold the Saker Mini Chainsaw in one hand and prune anywhere in your garden without the hassle of fumes, loud noise, or tangling power cords, and easily complete your pruning tasks.
The miniature one-handed chainsaw weighs just 1.1kg (battery included) and has a total length of just 4 inches. It only takes about 10s to cut a 15cm diameter log. This chainsaw is ideal for wood cutting, tree branches pruning, and gardening.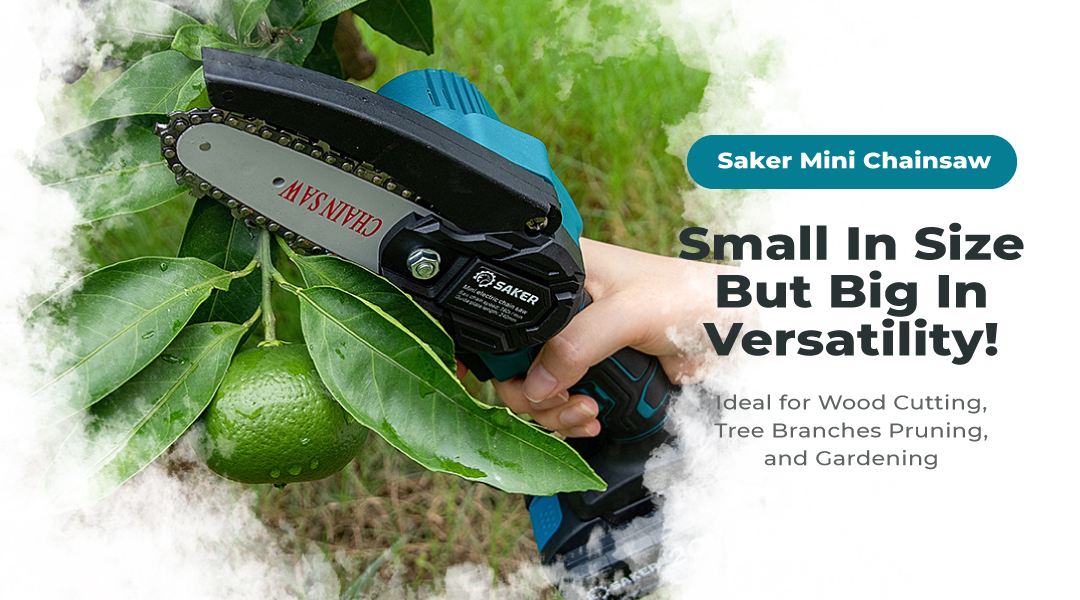 The Saker Mini Chainsaw doesn't take up much space in your home, shed or garage. Just three steps and you're ready to go. You can work continuously for 2 hours with a fully charged battery. Charge the spare battery and you can quickly replace it and continue pruning with virtually no delay!
The Saker Mini Chainsaw is light and can reach tighter places in the bush. It doesn't require any maintenance as a gas chainsaw does, and it's a lot more pleasant because you can still hear and smell the nature around you! No fumes, noise, or wires at all.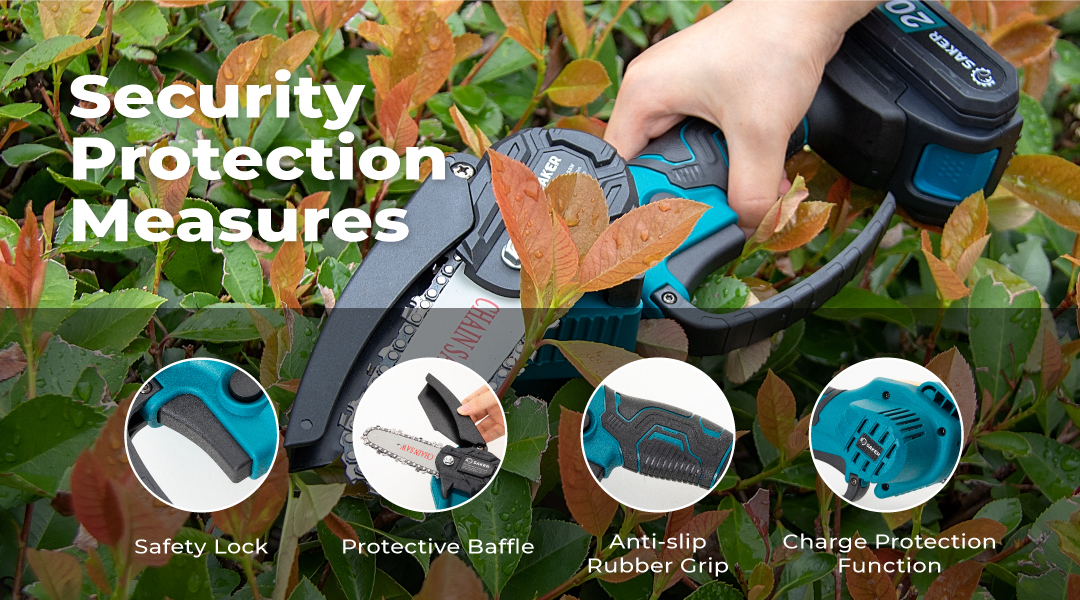 At the same time, it has 4 safety measures to ensure the reliable safety of the cordless chainsaw.
One is with a safety lock to prevent children from accidentally touching.
The second is to have baffles to prevent debris from splashing. When you're cutting branches above your head, those sawdusts would hit baffle and not come back in your face. Make your work safer.
Third, the rubber grip improves skid resistance and comfort.
Finally, there is a charging protection function, the LED indicator is red when charging, and green when it is finished. And that's good because that means that this charging system does turn itself off when this battery reaches full capacity.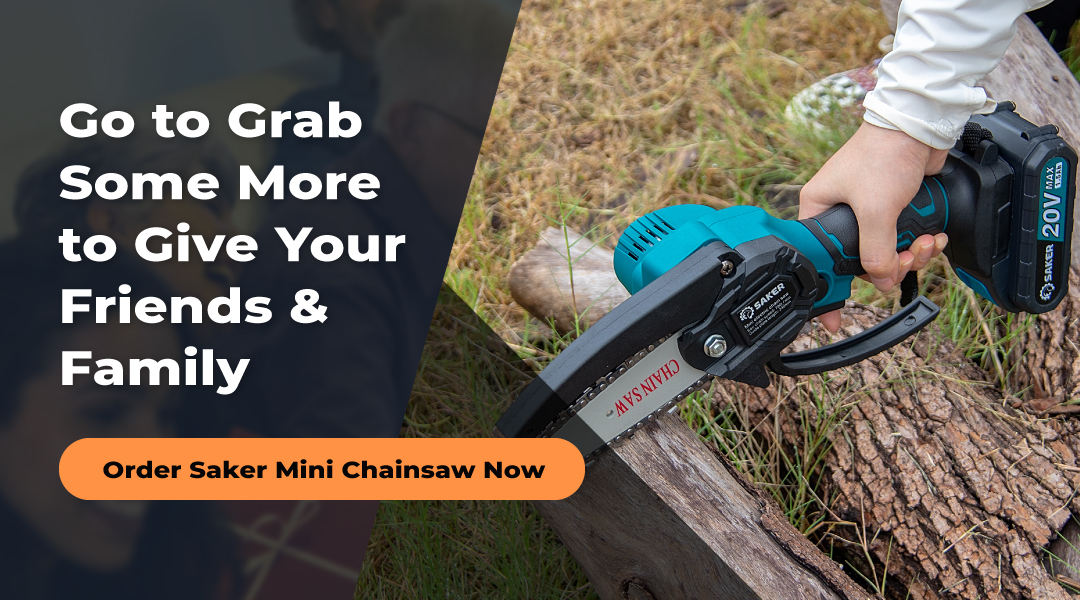 After introducing so much, you may want to know the price. Here's the site that's running up to 50% OFF sale on Saker Mini Chainsaw. Grab some more to give my friends & family. BUY MORE, SAVE MORE!
It's not sure how much longer this sale will go on for. So if you want to try Saker Mini Chainsaw, why not do it now, while you can get this big discount? Click here to get started.
Order now, before inventory runs low or supplies completely sell out again.
Did you know big brands spend BILLIONS on advertising, physical stores, and boss bonuses? Can you guess who's paying for that? Yep, we the customers...
The Saker Mini Chainsaw spends nothing on any of this. They only sell online, don't advertise on TV and don't have greedy owners who demand ridiculous bonuses.
They prefer to let their devices and positive reviews do the talking for them!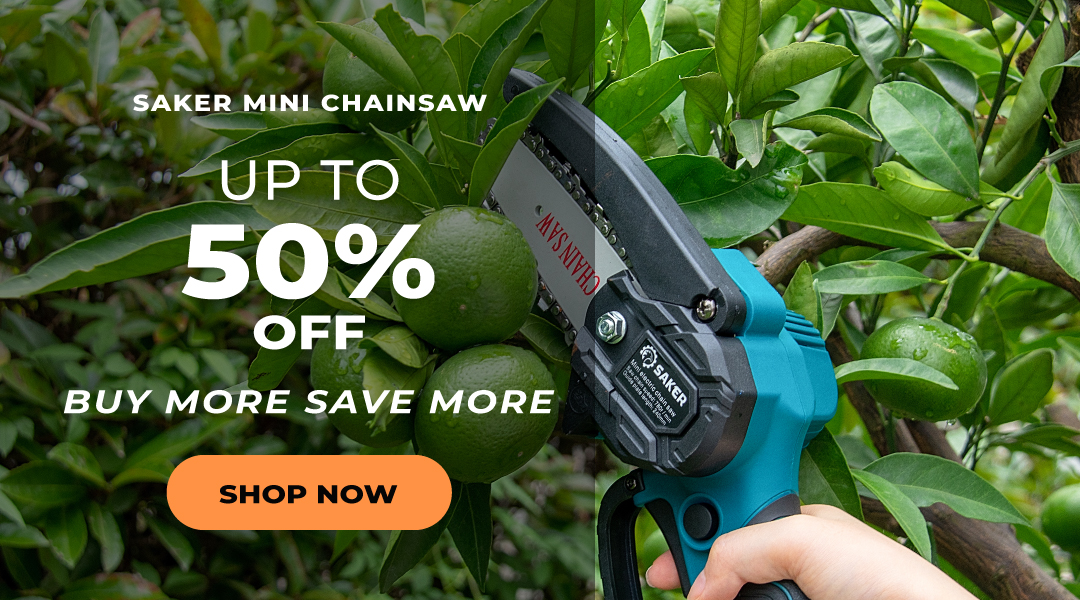 Now that you've discovered how unique, innovative this Saker Mini Chainsaw can help you make smaller wood cutting a breeze, let me show you how easy it is to use it. All you need to do is to follow these 3 steps:
Saker is offering a 50% discount on the product while supplies last, so don't wait too long. There's no saying when this deal will end, so it's a good idea to MAKE YOUR PURCHASE TODAY.
Saker wants to nudge you off the fence by giving you 50% OFF your order.
Check here to see if stock is still available>>
Don't take it from us:
"I wasn't sure what to expect, but honestly the Saker Mini Chainsaw is amazing. It makes quick work of branches and fallen tree limbs. Also great for quick trimming bushes! Highly recommend!"
"This is a great gift! I got the bundle for my dad for father's day and noticed that he keeps it on top of his work bench and actually uses it more than the big chainsaw we have. So happy to be able to get him some he actually wanted."
"Great for cutting up tree limbs. We use this to cut branches into smaller pieces for outdoor firewood. It has good enough power to cut 4 - 6 inch wide limbs with ease. Every toolbox needs it. If you hate yard work, you need this mini chainsaw!"