SAKER MINI CHAINSAW NEWS
Written by: Bob Brown,
Friday, May, 13, 2022
This really is the only way to split kindling. It's the ultimate tool that anyone can safely use. ——Lila R.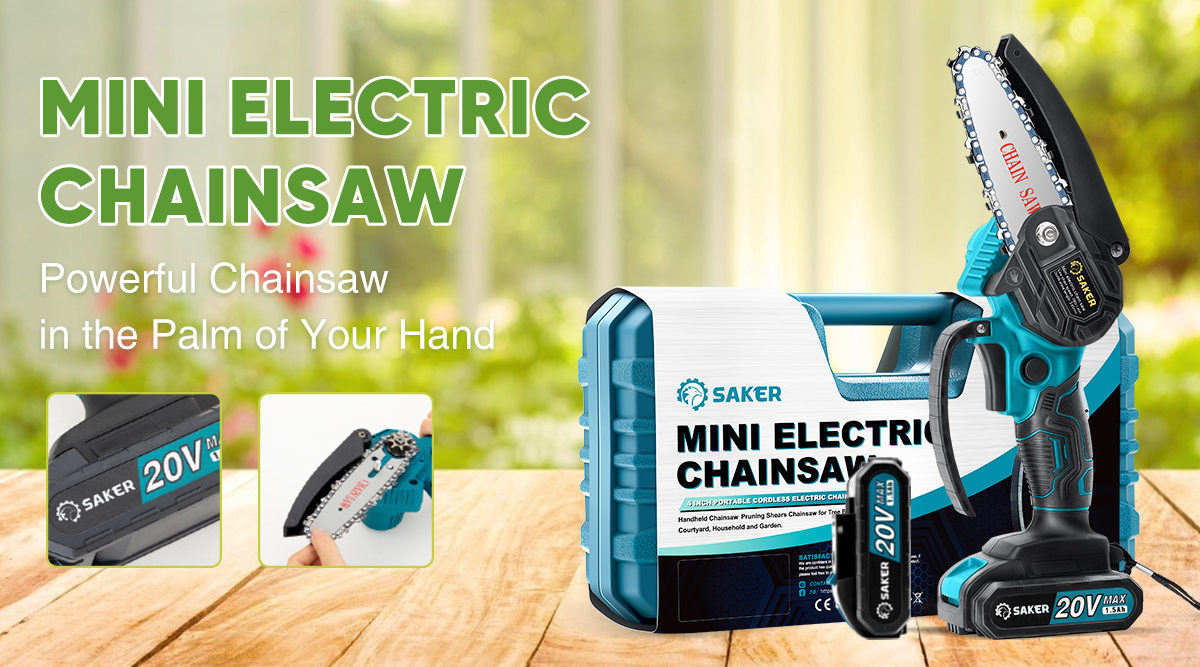 Hey, everybody, Bob here and willing to share with you an amazing tool I bought recently.
Personally, I really enjoy taking care of my yard. The smell of freshly cut trees and grass is absolutely amazing. Wouldn't you agree? However, due to the nasty gasoline fumes from my old two-stroke chainsaw, I had lost that joy of smelling the rich wonderful smell.
So when I saw this little electric miniature chainsaw, I tell myself I've got to get my hands on one of these and use it for my yard pruning work.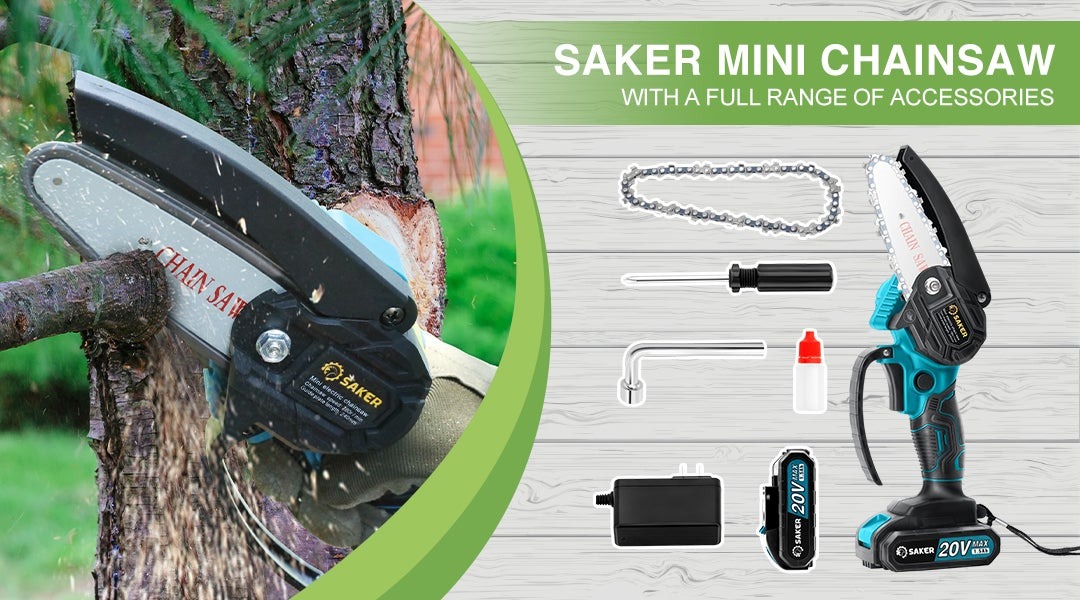 When I received the Saker Mini Chainsaw, I was amazed by it because the package came fully equipped. I get the main part of the tool itself, then it's the little miniature chainsaw chain. I also get a little miniature chainsaw bar.
There's a battery, and it says it's a 20-volt battery. With the battery,I also get a charger. It also comes with some tools an oil bottle, it does not come with the oil. And then last but not least, I get the instruction manual.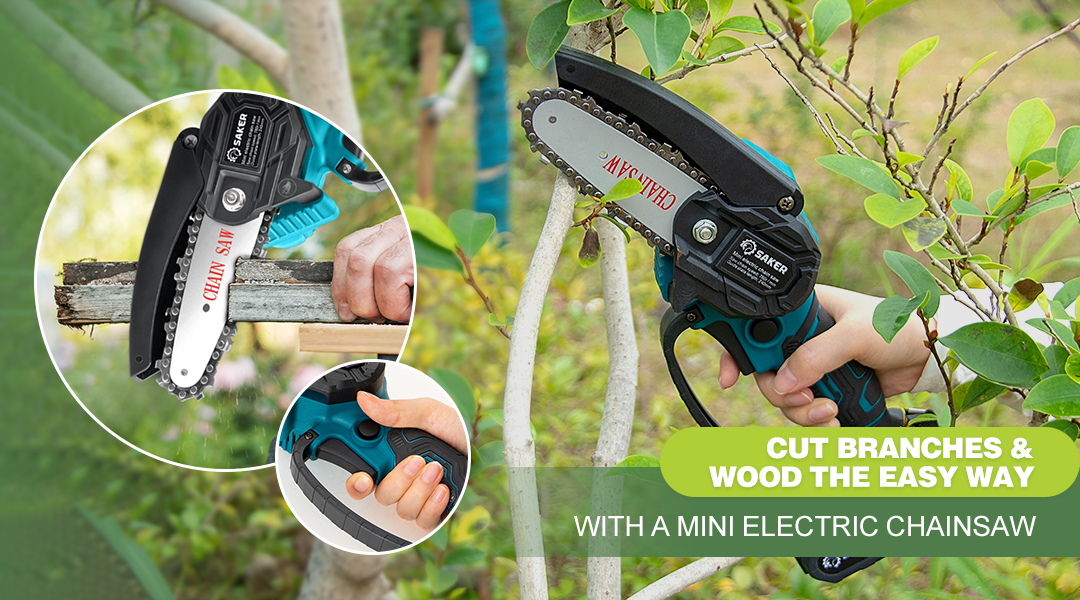 When I saw so many accessories in the package, I thought it would take some time to assemble the Saker Mini Chainsaw. However it didn't. Assembling this is very easy!
It's just like a regular chainsaw. You just put your chain on the bar then you put your bar onto the tool. Make sure that the tensioner is in this little hole right here on the bar. Make sure the chain goes around the sprocket, you don't want it too tight or too loose. You set the tensioning right here with that screw, and then once it is all set, you just tighten down the cover and that holds everything into place.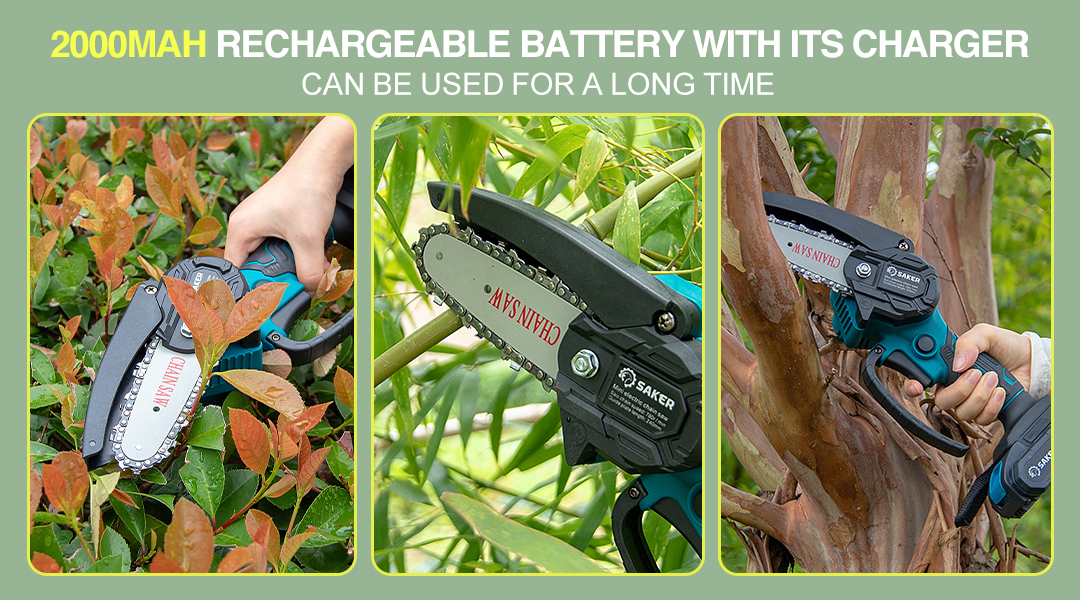 After assembling it, it is not ready to use Saker Mini Chainsaw immediately. As you know, this is a rechargeable electric chainsaw. Saker Mini Chainsaw uses the pure copper motor to get strong power, fast cutting, and higher efficiency.
The 20 volt Makita cordless tool batteries and also the charger that comes with this. It got a barrel jack on the end of it, and you plug it in right here and this is how you charge this battery. The 20V 1500mAh rechargeable lithium battery lasts up to 2 hours of continuous use, and 4 hours of mild use.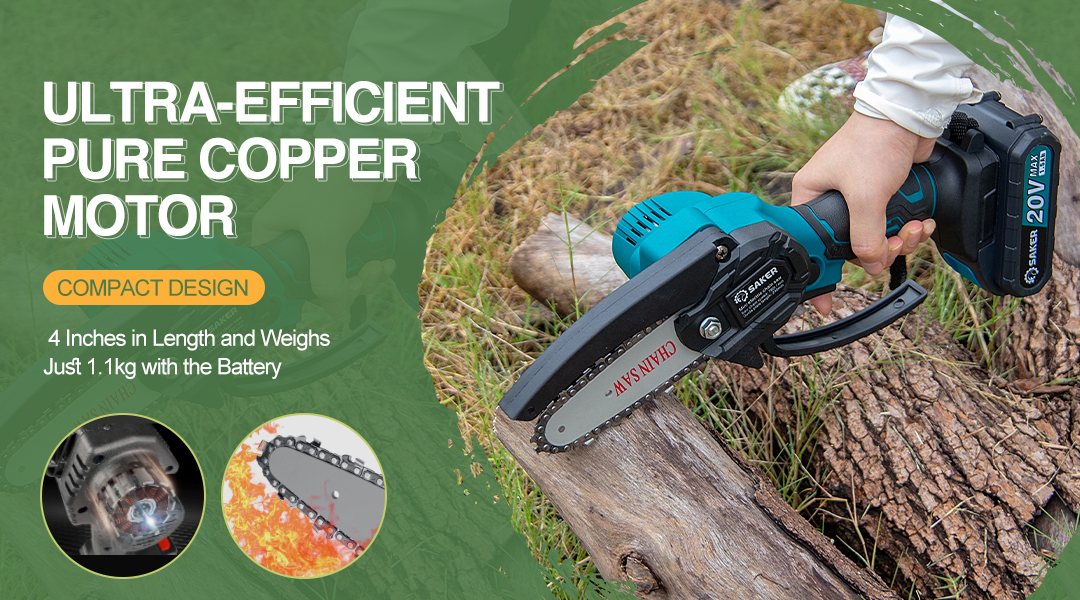 Now that we're charged up, we can use the Saker Mini Chainsaw. When you're ready to cut, simply push the button to turn it on, and carefully cut the wood or branch with one hand. The dust baffle will prevent debris from flying around, and your cutting is done quickly and easily!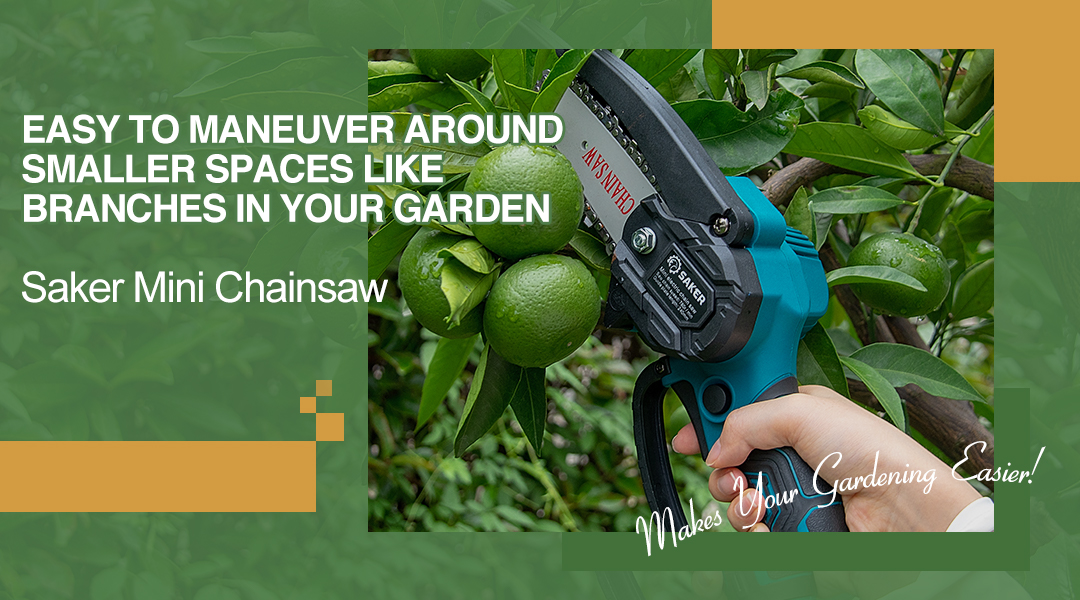 I have used it on bushes and apple trees in my yard and it works just as well as presented. The miniature one-handed chainsaw weighs just 1.1kg (battery included) and has a total length of just 4 inches. It only takes about 10s to cut a 15cm diameter log. This chainsaw is ideal for wood cutting, tree branches pruning, and gardening.
The Saker Mini Chainsaw is light and can reach tighter places in the bush. It doesn't require any maintenance like a gas chainsaw does, and it's a lot more pleasant because you can still hear and smell the nature around you! No fumes, noise or wires at all.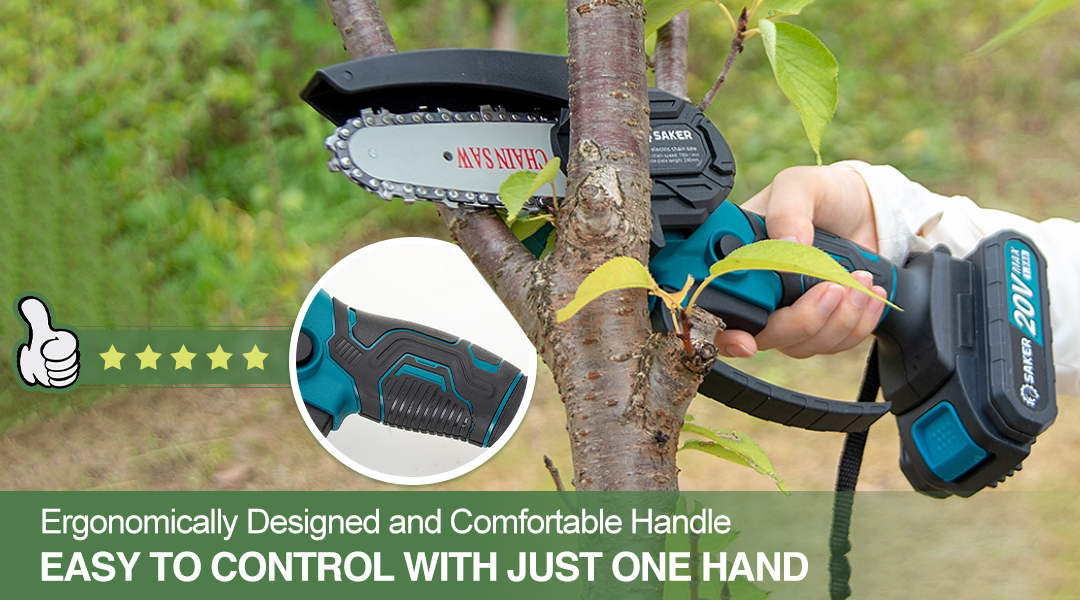 Because of its weight and size, the portable compact mini chainsaw is easy to carry. Even if the suitcase is small, it can perfectly store all accessories. At the same time it frees up much needed space in your home, shed or garage. Saker Mini Chainsaw is ergonomically designed. It can be used with one hand. It's not easily fatigued by long-term use, and can be easily managed by the elderly.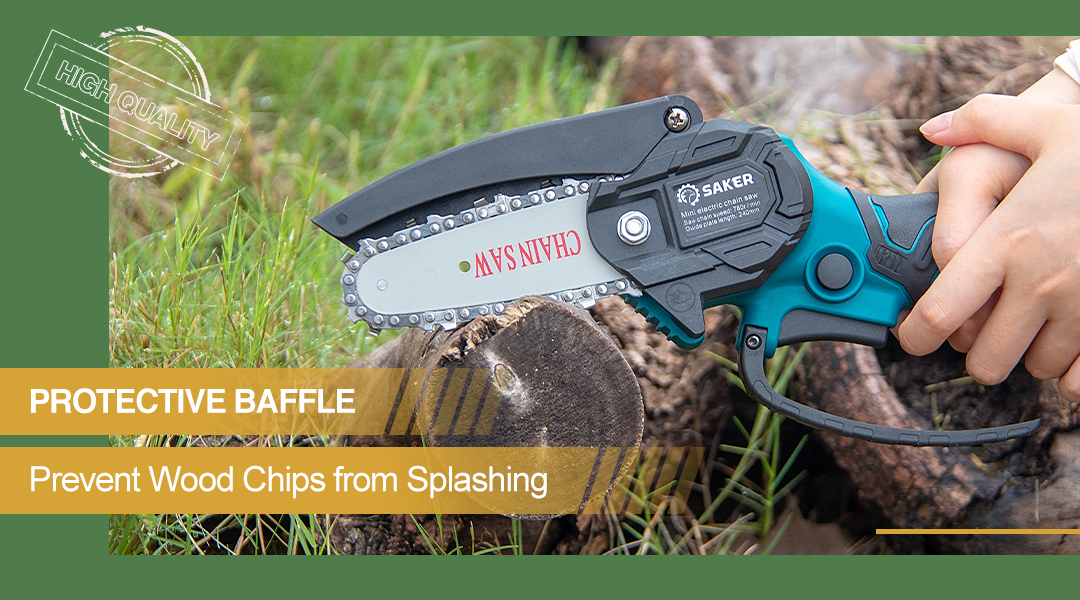 At the same time, it has 4 safety measures to ensure the reliable safety of the cordless chainsaw.
One is with a safety lock to prevent children from accidentally touching.
The second is to have baffles to prevent debris from splashing. When you're cutting branches above your head, those sawdusts would hit baffle and not come back in your face. Make your work safer.
Third, the rubber grip improves skid resistance and comfort.
Finally, there is a charging protection function, the LED indicator is red when charging, and green when it is finished. And that's good because that means that this charging system does turn itself off when this battery reaches full capacity.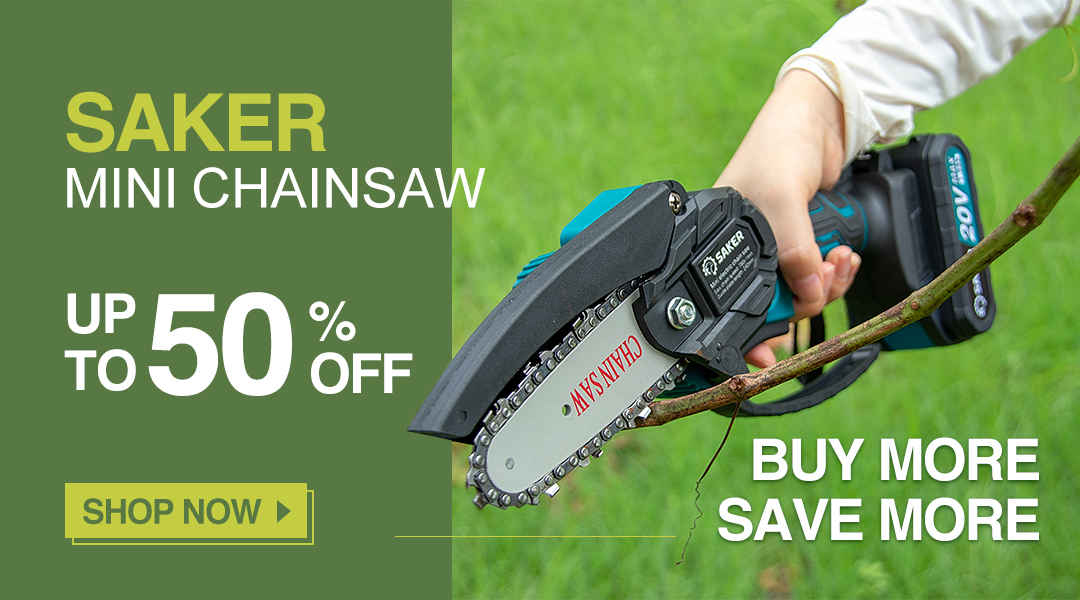 Now that you've discovered how unique, innovative this Saker Mini Chainsaw can help you make smaller wood cutting a breeze, let me show you how easy it is to use it. All you need to do is to follow these 3 steps:
Saker is offering a 50% discount on the product while supplies last, so don't wait too long. There's no saying when this deal will end, so it's a good idea to MAKE YOUR PURCHASE TODAY.
Saker wants to nudge you off the fence by giving you 50% OFF your order.
Check here to see if stock is still available>>
Don't take it from us:
"I wasn't sure what to expect, but honestly the Saker Mini Chainsaw is amazing. It makes quick work of branches and fallen tree limbs. Also great for quick trimming bushes! Highly recommend!"
"This is a great gift! I got the bundle for my dad for father's day and noticed that he keeps it on top of his work bench and actually uses it more than the big chainsaw we have. So happy to be able to get him some he actually wanted."
"Great for cutting up tree limbs. We use this to cut branches into smaller pieces for outdoor firewood. It has good enough power to cut 4 - 6 inch wide limbs with ease. Every toolbox needs it. If you hate yard work, you need this mini chainsaw!"