SAKER GREASE GUN COUPLER
This Saker Grease Gun Coupler Unique Advantages: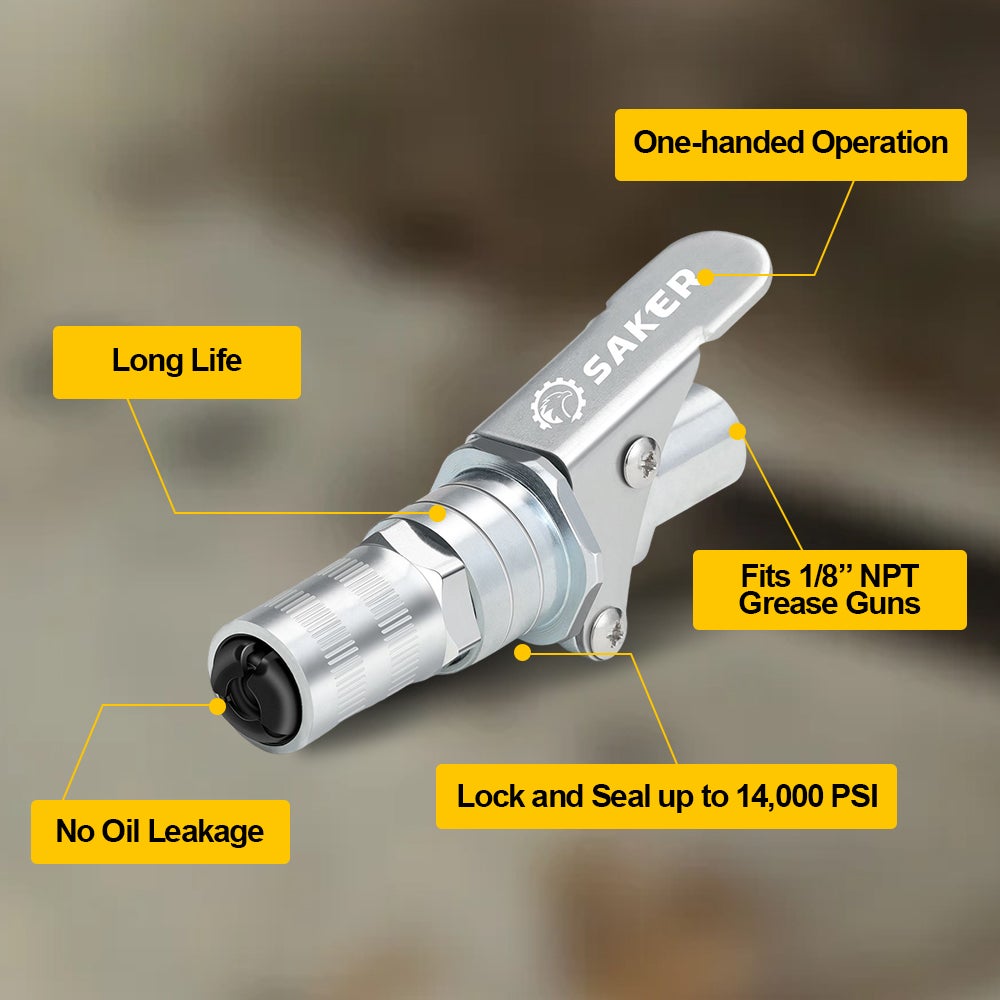 Saker Grease Gun Coupler
Locks on, no leaks, rated up to 14,000 PSI
Reinforced jaws. Easy disconnection, even under pressure.
1/8" NPT compatible with all grease guns, mini grease guns, manual, pneumatic, electric and other types.
Works on all Zerk fittings, SAE and DIN
Grease only goes in and leaves no stain or leaks on machine
Faster projects, professional results
Affordable cost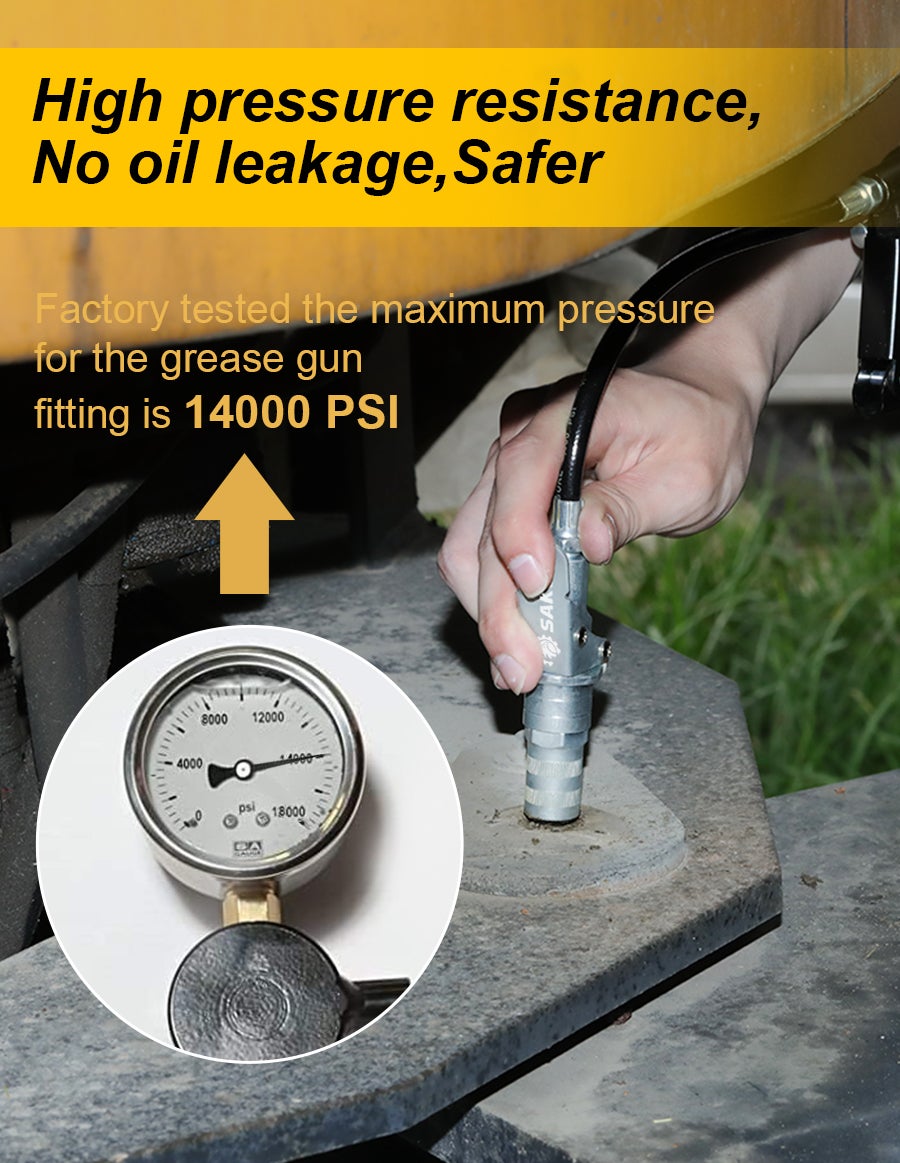 Waterproof, Grease-Resistant

Its zinc-coated surface, reinforced jaws and quality sealing gasket protects the coupler from water, grease and other corrosive contaminants.

High Grade Materials

Built with quality zinc-coated alloy steel, this grease gun coupler is suitable for an all-day operation in your garage or workshop.

Multiple Applications

1/8" NPT compatible with all grease guns and DIN and SAE grease fittings. Suitable for use at construction sites, in auto repair shops, and with farm machinery.

Ergonomic Thumb Lever Mechanism

With smooth retraction, only one-hand is needed for greasing. Simply lock in the grease gun coupler and continue to operate the grease gun.
America's New Favorite Tool Featured On:

Perfect tool for continuous greasing without breakage, leakage or warping
With a sleek design and quick release sleeve, this coupler latches firmly onto grease fitting, enabling hands-free greasing. Activated by an ergonomic thumb lever, the couplers' jaws locks onto the Zerk fittings and creates a leak-proof seal. With this locked connection, the coupler stays fixed and does not break, leak or wear and tear. Once fitting is pressurized, simply depress the thumb lever and it releases the coupler.
The Saker grease gun coupler enables a clean work environment; reduce spurts, splashes and oily mess.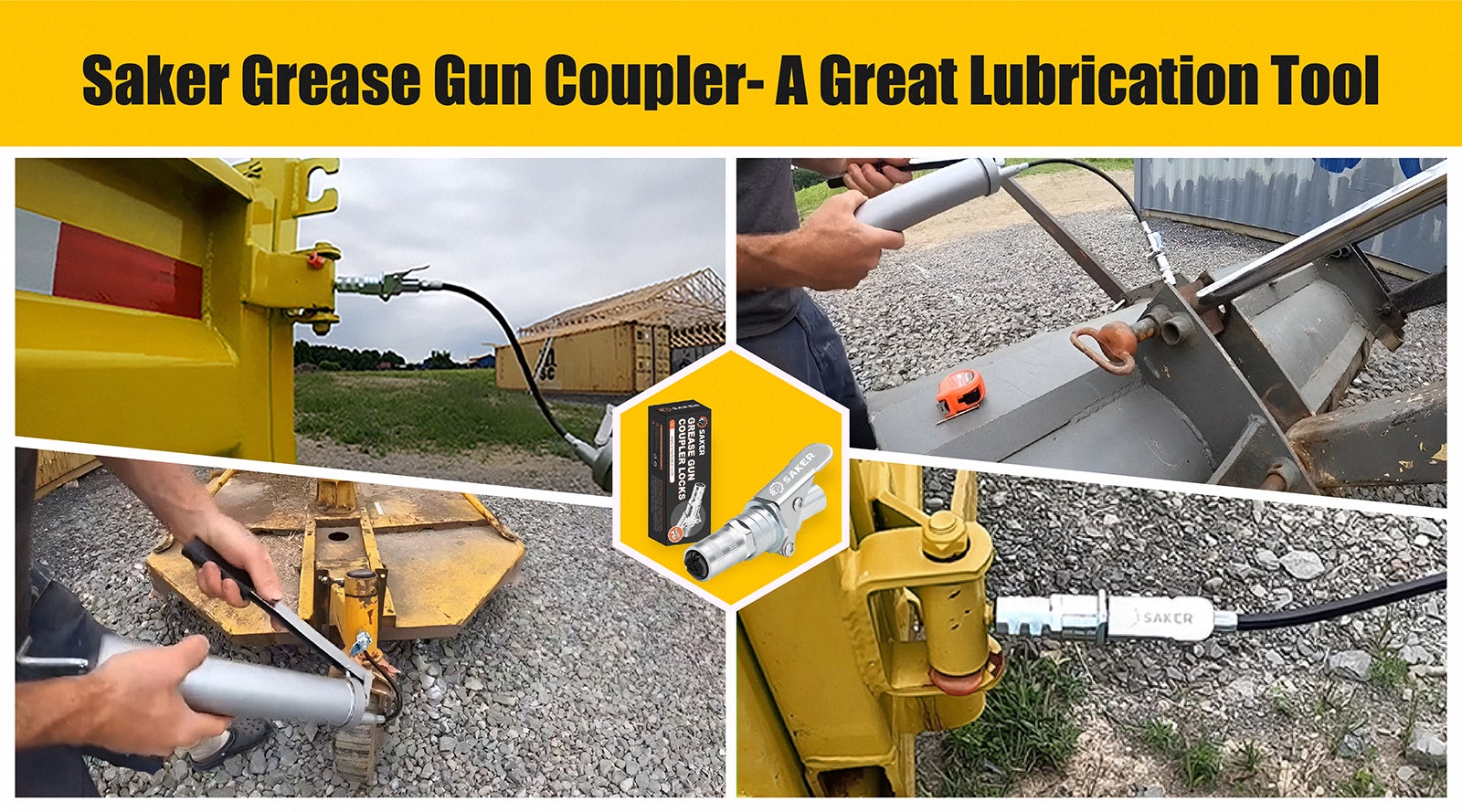 WHY CHOOSE SAKER GREASE GUN COUPLER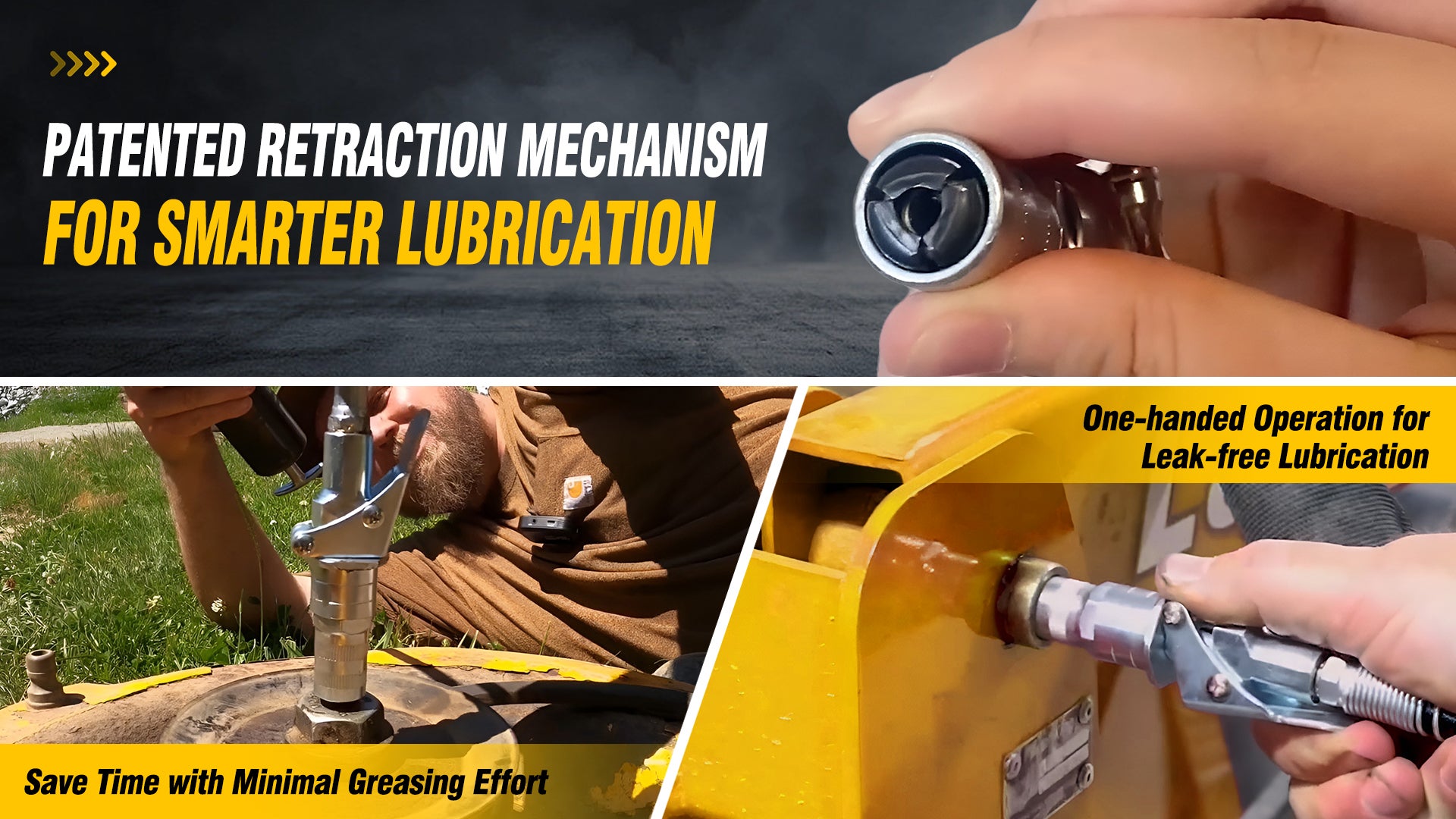 Saker Grease Gun Coupler is very easy to Use
STEP 1

Press the level to lock and release the grease coupler.

STEP 2

After pressing the level, the inner seal retracts back and leaves outer socket ring wide open.

STEP 3

Once the coupler is locked on the zerk fitting; it stays on and frees both hands to operate the grease gun.
Purchase Saker Grease Gun Coupler!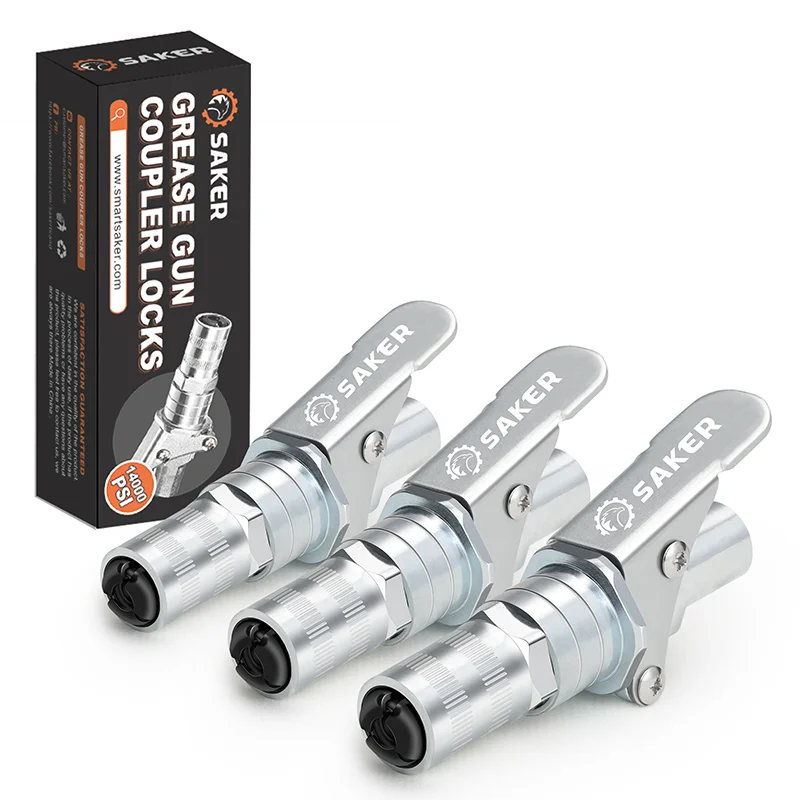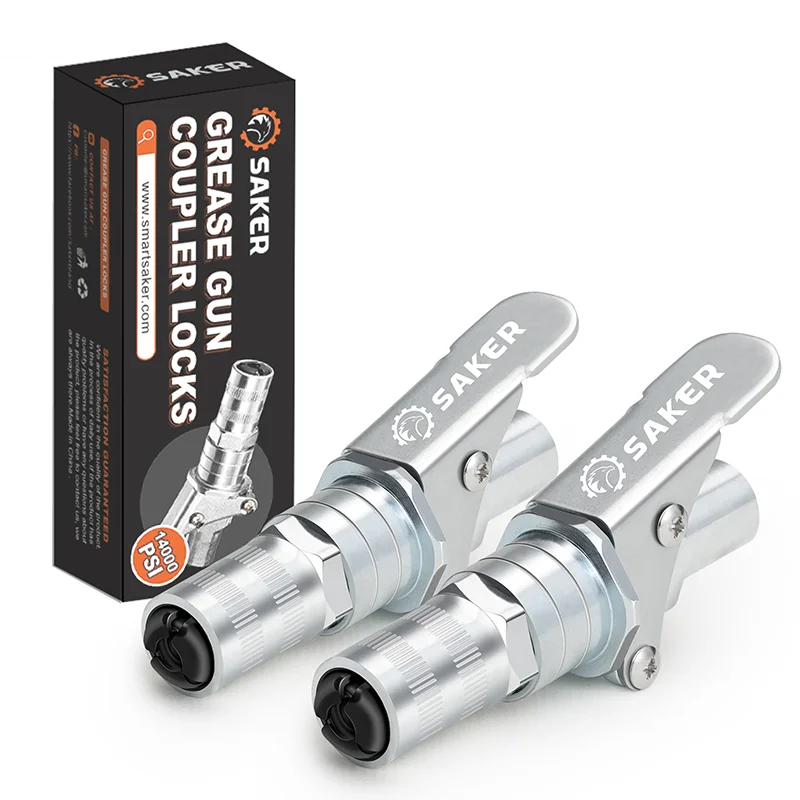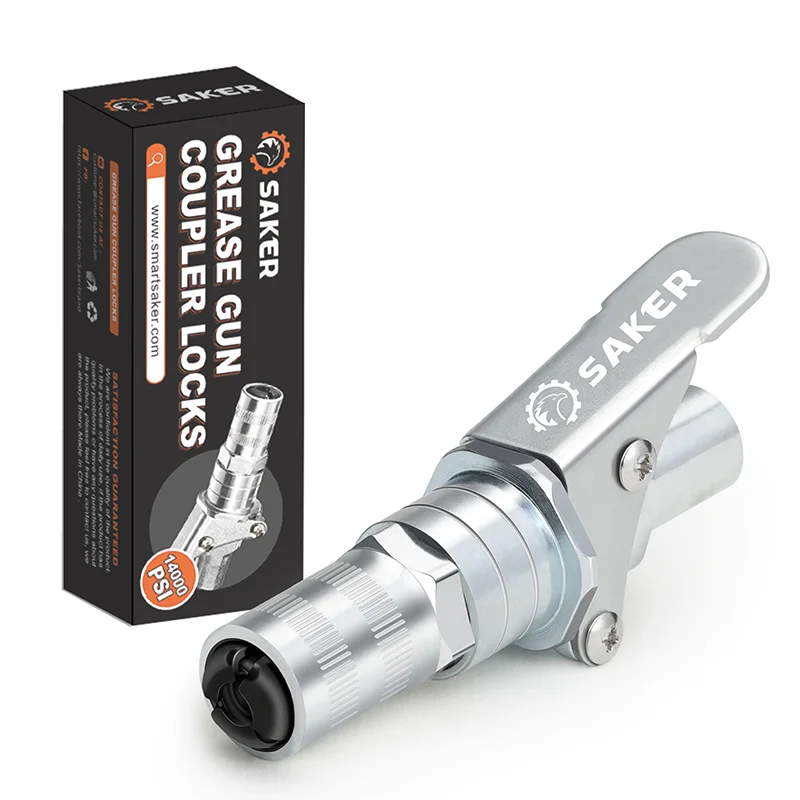 About Saker
Saker products were developed by real life professionals in construction. We understand the struggles handy people face in projects both at home and on the work site. Our products are designed specifically to be easy to use for everyone. We produce Saker products only with the highest quality of materials that are specifically vetted for durability and functionality.
Over 86,000 Construction Journeymen and Foremen
use Saker Coupler in the USA
Built with premium quality alloy steel, weighing 6 oz., the Saker grease coupler is stronger than regular grease couplers. With quality sealing gasket ensuring no leaks at extreme pressure like 14,000 and a 1/8" NPT compatibility with all grease guns, it's no wonder Saker has 64,000+ positive reviews!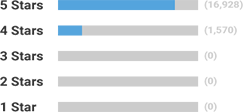 98%
of customers said they would buy again & recommend Saker to others.


I had been wanting to try a locking quick-disconnect coupler for quite a while. I saw this one and was immediately hooked by the very fair price, and the strong construction. After receiving it, I tried it out and it was exactly what I needed. Once pumping pressure is exerted from the gun to the coupler, it holds tight without assistance and without leaks. It is an excellent value for the money.
Gary D. Home Improvement Enthusiast from Los Angeles, California


I wish I knew about this before. Makes greasing a breeze. Wipe the fitting, put it on, flip the lever, and it's locked on. No leaking when pumping. Done greasing flip the lever and it comes right off no pulling and tugging. Excellent Item!
Aaron R. Dad and Handyman from Reston, Virginia


I hate it when you put the grease gun attachment on a fitting and then it pops off, usually making a mess. When they came, I replaced the old coupler with the Saker coupler on two difficult fittings and it worked great, hung on perfectly. I have one for the boat and boat trailer gun, and one for the rest of machinery. Should have had them for years.
Leo T. Architect from Walpole, Massachusetts