SAKER® CHAMFER PLANE
This Saker Chamfer Plane is
Perfect For: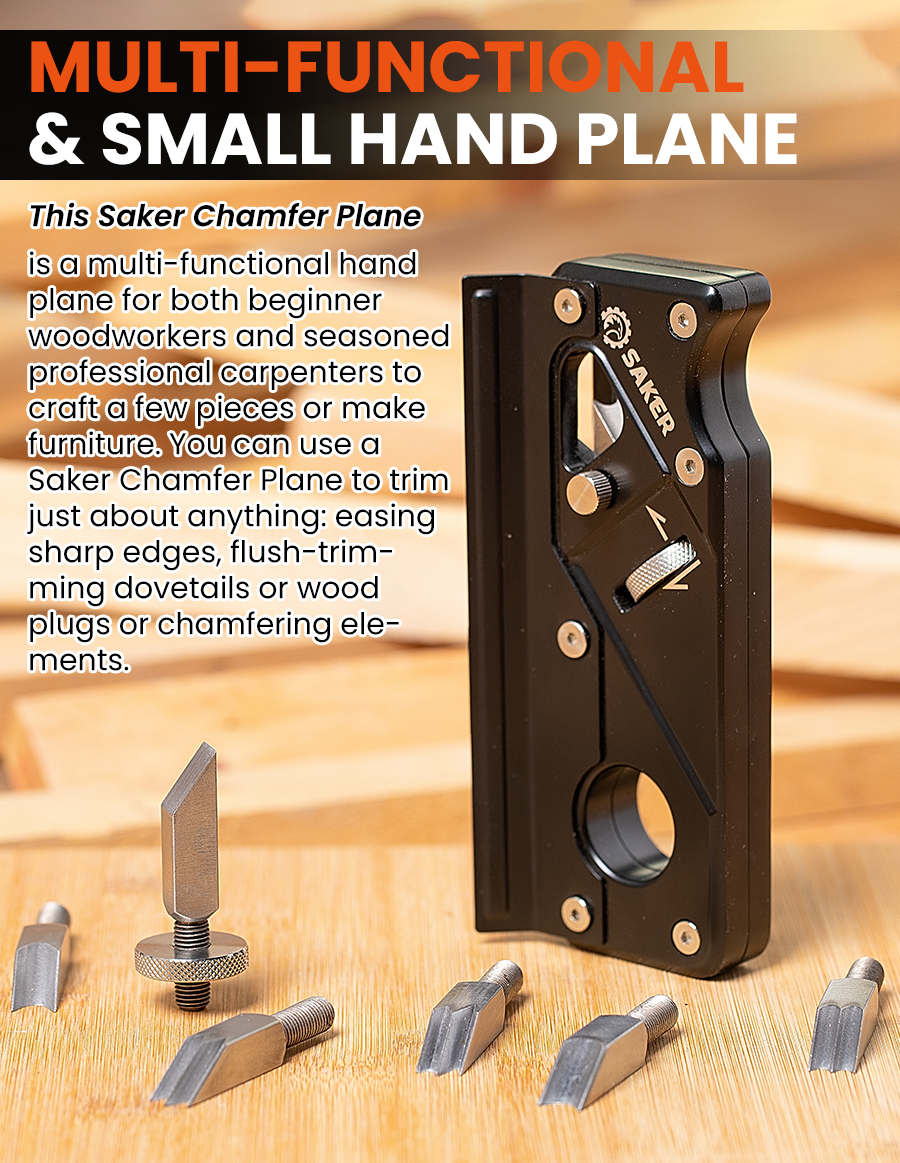 Woodworking Planer Tool

Doors, trim, cabinets, and boards

Carbon Steel Blades

High-strength, sharp, ruthless, and efficient

Simple Combination

Easily install and Combination

Small & Convenient

Small, portable, and easy to operate

Ergonomically Design

Comfortable to hold and easy to operate

Wide Applications

Suitable for trimming and chamfering all kinds of wood
America's New Favorite Tool Featured On:

Easy & Accurate Trimming on All Kinds of Wood With the Positioning Assist Function
With the Saker Chamfer Plane, you can quickly eliminate edges, and can easily and quickly add other drill bits, thus making your work easier and more accurate! The chamfer plane is equipped with horizontal and vertical bubbles for easy observation and leveling. The cutting depth can be adjusted according to the working requirements.
Your projects are done faster, have less clean up, and look up to 10x more professional.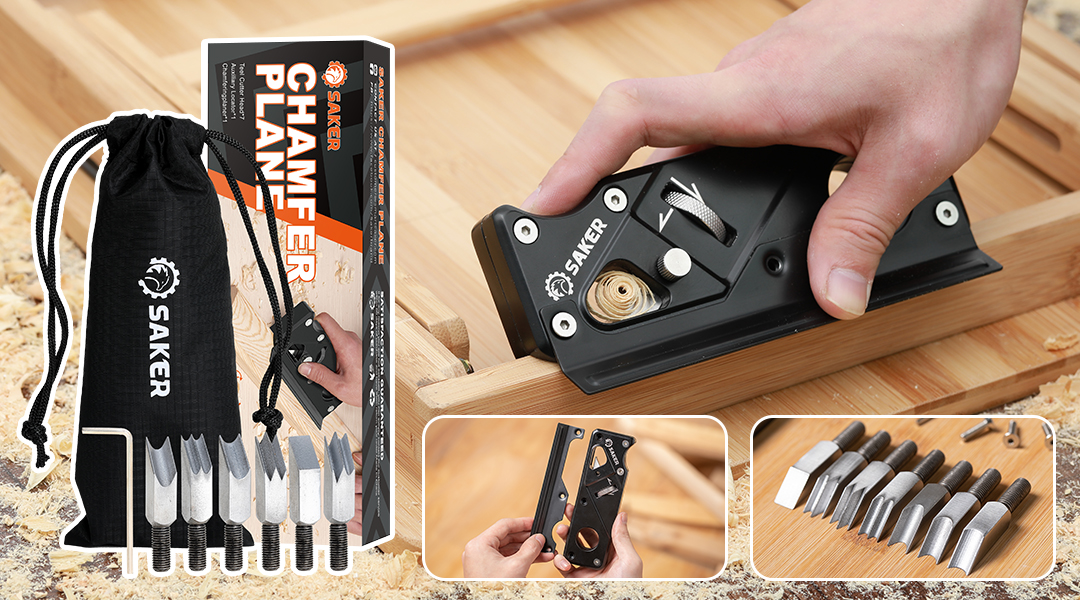 Adjustable Depth

Adjustable cutting depth according to the working requirements

Easy To Operate

Built-in 45° flat blade and fine grinding of knife edge

Sharp And Hard

Carbon steel blades with good compressive strength

Safe And Efficient

A black retaining edge is added to protect your safety

Easy To Disassemble

Sharp saws and planers can combine your joinery professionally with neat edges
Save Energy, Time & Space
Saker Chamfer Plane has six cutter heads for you to choose from, you can choose according to the shape you want! One sharp, one round cutter, a double round cutter, a 1/8 round cutter, a double sharp cutter, a 1/4 round cutter, and a 3/16 round cutter. These cutter heads allow you to plan wood easily! For those who like DIY, this is the best gift for wooden furniture crafts and handmade DIY wooden works
Why do Professionals Only Trust Saker?
Over 86,000 construction journeymen and foremen around the USA praise Saker for the innovative, efficient design.
Traditional hand plane has limited functionality and takes up more space. It is bulkier, and has less safety features. Saker provides adjustable chamfer plane that can adjust the cutting depth according to the working requirements.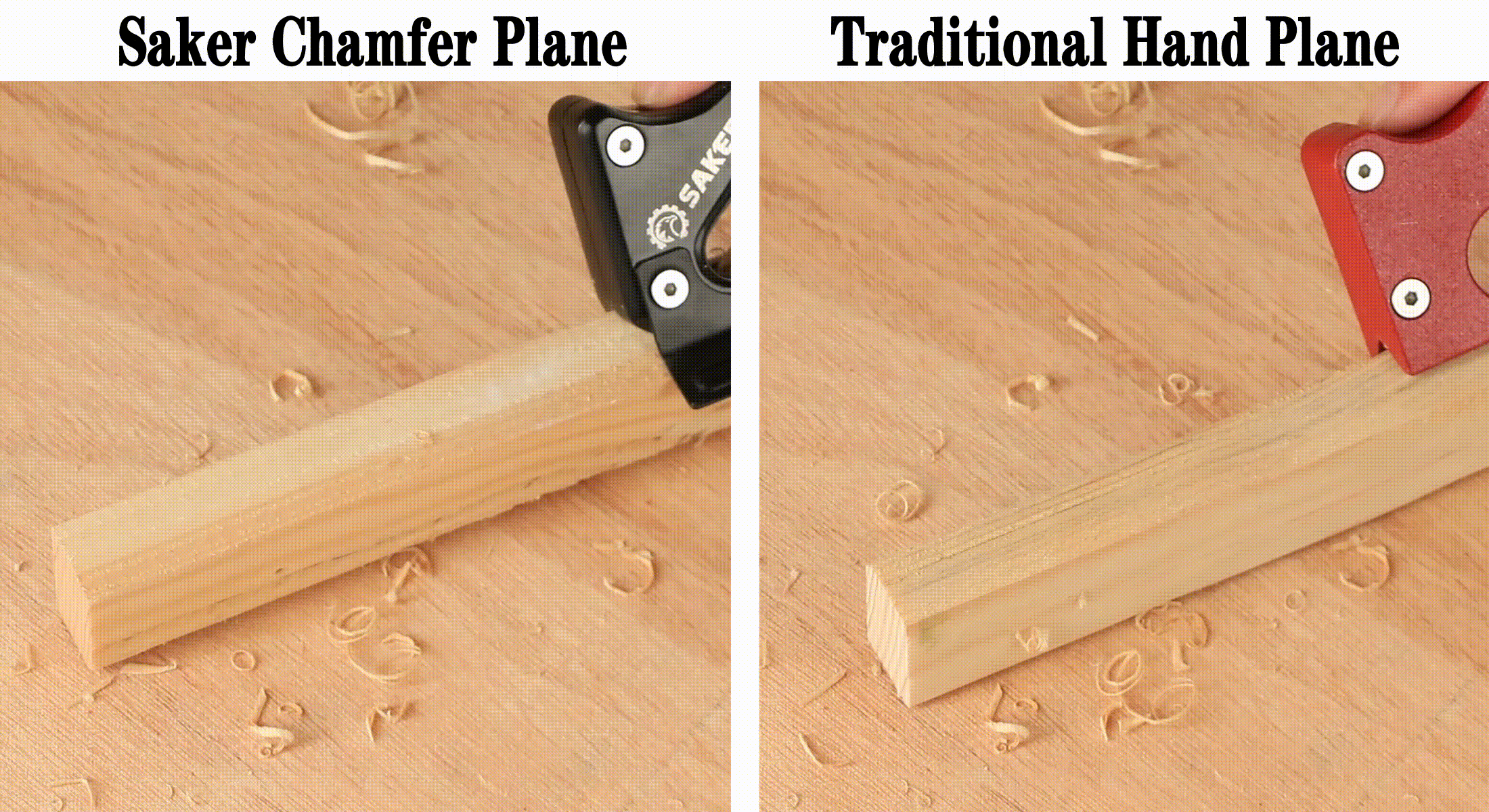 Saker Chamfer Plane
Adjustable depth design
With built-in 45° flat blade
Ergonomic design
Equipped with six cutter heads
Strong and durable
30 Day Satisfaction Guarantee
Traditional Hand Plane
It's fixed and not adjustable
Fixed blade, not replaceable
Hard to hold and control
Unable to change the blade
Made of perishable wood
No guarantee for customers
Saker Chamfer Plane is So Easy to Use
STEP 1

Prepare your door, cupboard or board. Select the blade you want to use, unscrew the screws and disassemble the plane.

STEP 2

Put the blade you want to use in the plane.

STEP 3

Install the plane and re-tighten the screws. Now you can start your project with Saker Chamfer Plane.
Purchase Saker Chamfer Plane!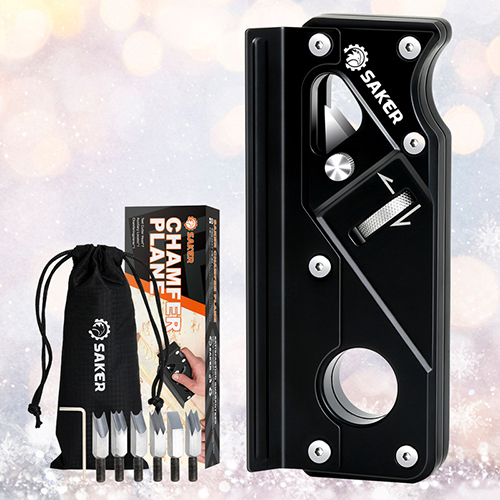 1*Saker Chamfer Plane+6*Cutter Head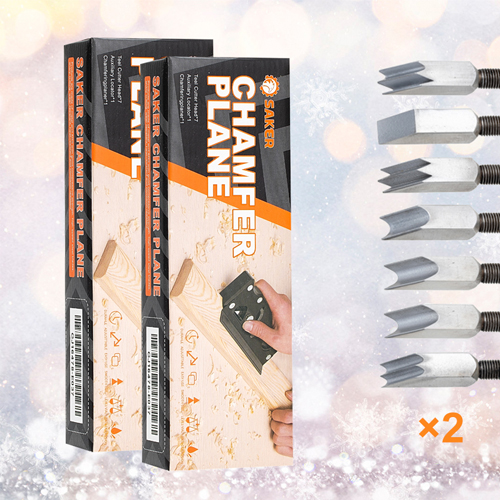 2*sets (1*Saker Chamfer Plane+6*Cutter Head)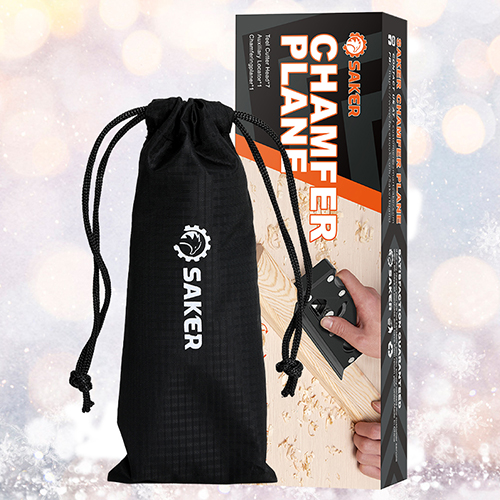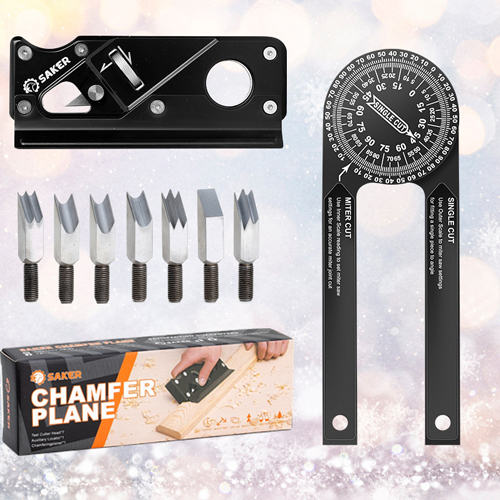 1*Saker Chamfer Plane+6*Cutter Head+1*Saker Miter Saw Protractor
About Saker
Saker products were developed by real life professionals in construction. We understand the struggles handy people face in projects both at home and on the work site. Our products are designed specifically to be easy to use for everyone. We produce Saker products only with the highest quality of materials that are specifically vetted for durability and functionality.
Saker has over 64,000 positive reviews!
See what professional construction people and home improvement enthusiasts say about Saker Chamfer Plane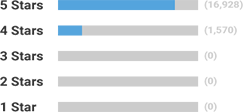 98%
of customers said they would buy again & recommend Saker to others.


They are made of a lightweight metal, came with adjustable length screws, which is a plus! I can't find anything to say bad about these. We just bought an old farmhouse and wanting to update the kitchen affordability. And yes, It worked very well.
Olivia E. Home Improvement Enthusiast from Los Angeles, California


I have been using it for a week and I often use it for planing wood. It's really good, even though it is small, it is very sharp, and planing wood is very fast. And it has a positioning assist function, which allows me to plan wood straight without hurting my hands, which is really suitable!
Hugo R. Dad and Handyman from Reston, Virginia


Love these handles! For refinishing my cabinets looked for this hardware at every store and came here to find it. Price was on point and the quality and installation was perfect. They contrast nicely with both my white upper and gray lower cabinets! The depth adjustment works good. Great value, and so worked perfectly!
Tom Lee T.Construction Foreman from Walpole, Massachusetts