SAKER 20V CORDLESS HEDGE TRIMMER
This Saker Cordless Hedge Trimmer Advantages: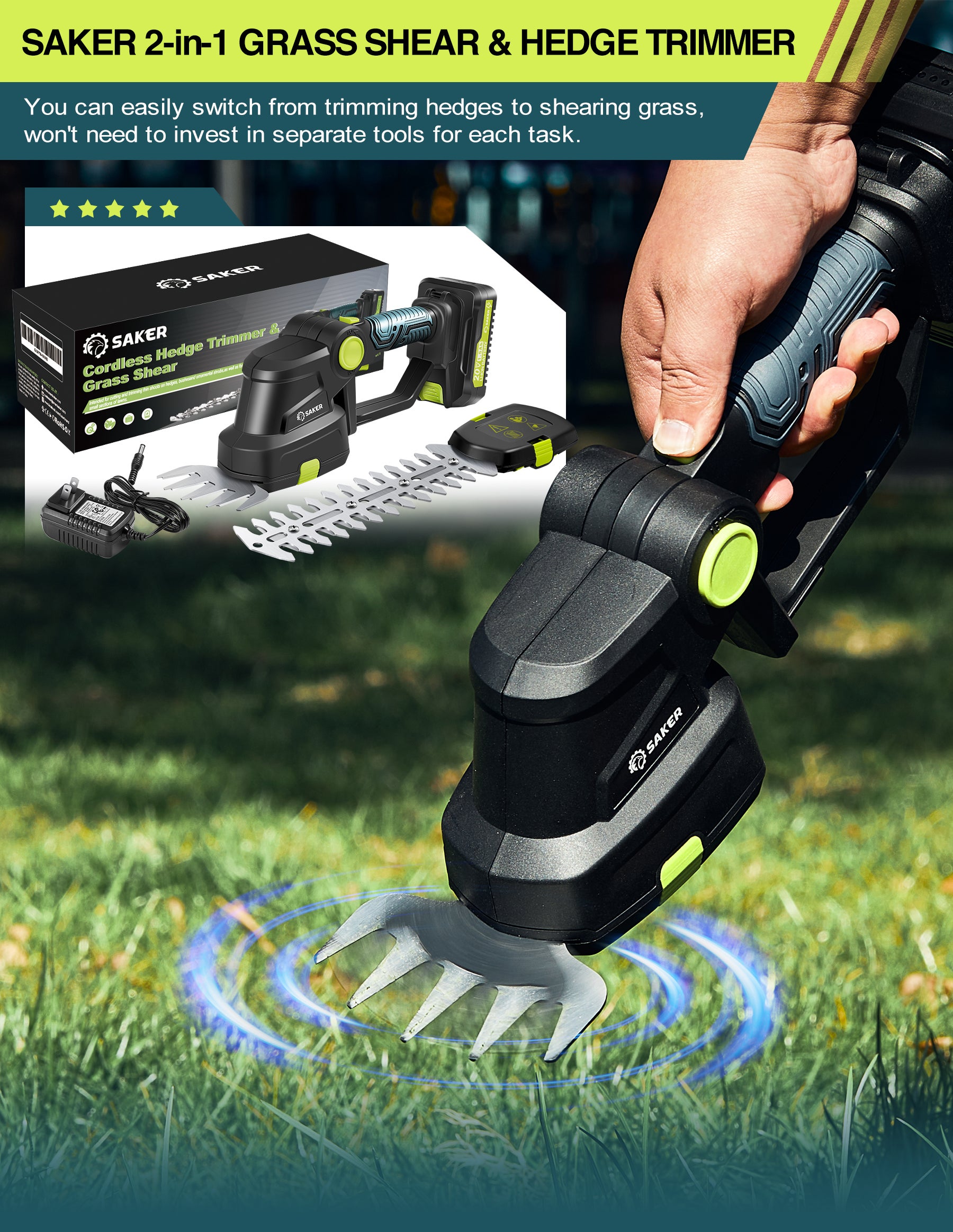 Safe and Reliable

This hedge trimmer is designed with a safety lock, and the machine can only be started after pressing the safety lock. This prevents accidental activation and protects your family.

Blade Guard

The blade protection device is designed to prevent accidental cuts and scratches while used. It acts as a shield over the blade, minimizing the risk of injury to the user or others nearby.

2 In 1 Trimming Tool

This trimmer has 2 types of heads and the cutter heads are easy to switch. The hedge clippers are for shrubs, and the lawn clippers work well in hard-to-reach areas like corners and stone paths.

Adjustable Angle

The side buttons on the green hedge trimmer allow for easy adjustment of its angle, making it simple to use. It can meet your different needs in different situations.

Rechargeable Battery

Our trimmer is equipped with a 20V 2000mAh cordless tool battery, which can be used for a long time. Charging at any time, is convenient and fast. Its charging system turns off when the battery reaches full capacity.
America's New Favorite Tool Featured On:

Safe and Easy-to-Use Trimming Solution
The Saker 2-in-1 handheld adjustable trimmer is a lightweight, efficient, and durable hedge and lawn clipper. It includes hedge and lawn clippers with a quick-switching design and high-quality SK5 steel blades. It is easy to operate with one hand, making it convenient for women and the elderly to use. It offers strong 20V power and long working hours, unlike most products with insufficient power and short use time. The rechargeable lithium battery and charger make it cordless and easy to maneuver, while two safety measures ensure reliable safety. It is suitable for home lawn and green belt, shrub shape trimming and can be used directly after charging. What's more, it is thoughtfully designed to cater to both left-handed and right-handed users, offering ergonomic features that ensure a comfortable grip and easy operation for everyone.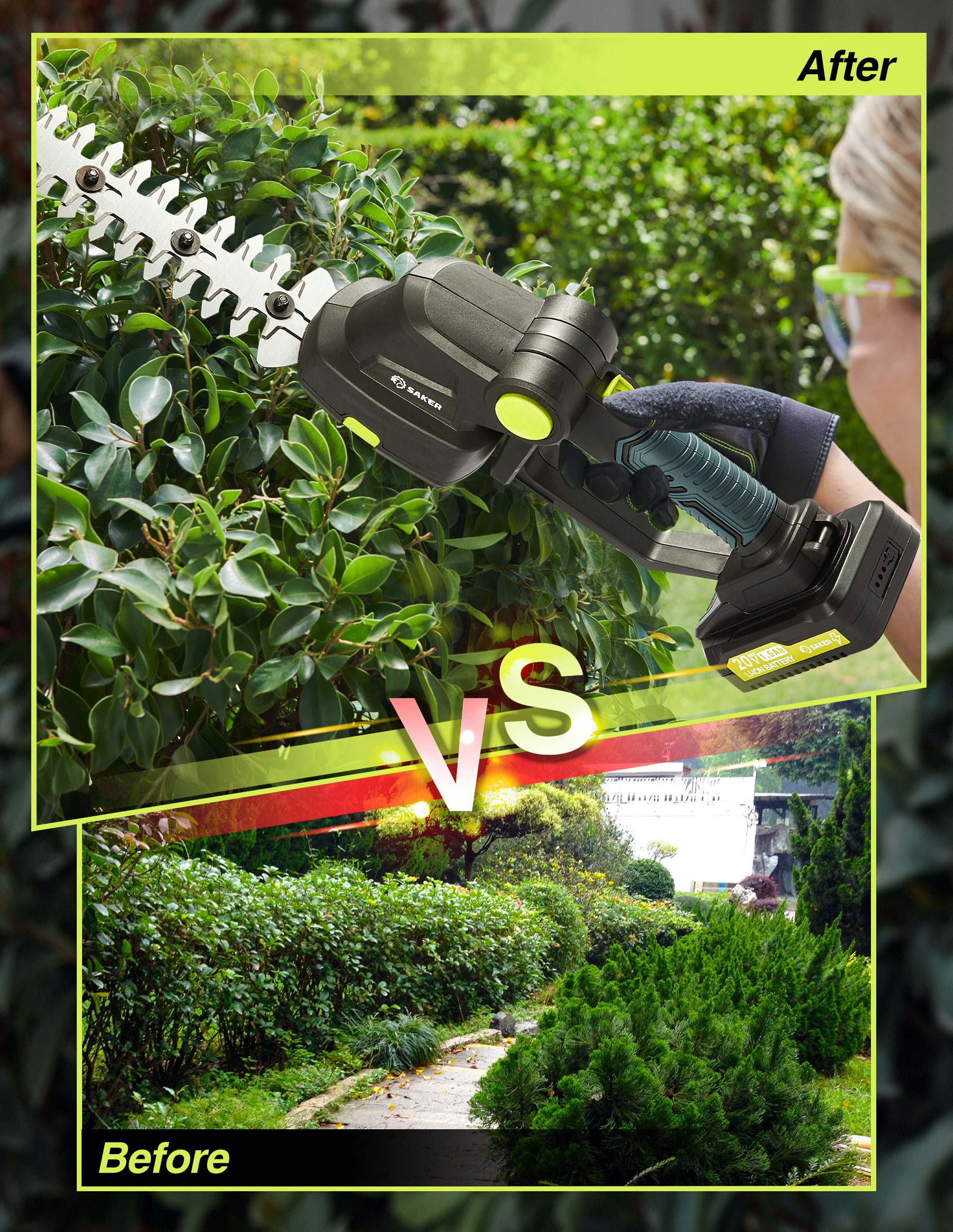 Why Choose Saker Cordless Hedge Trimmer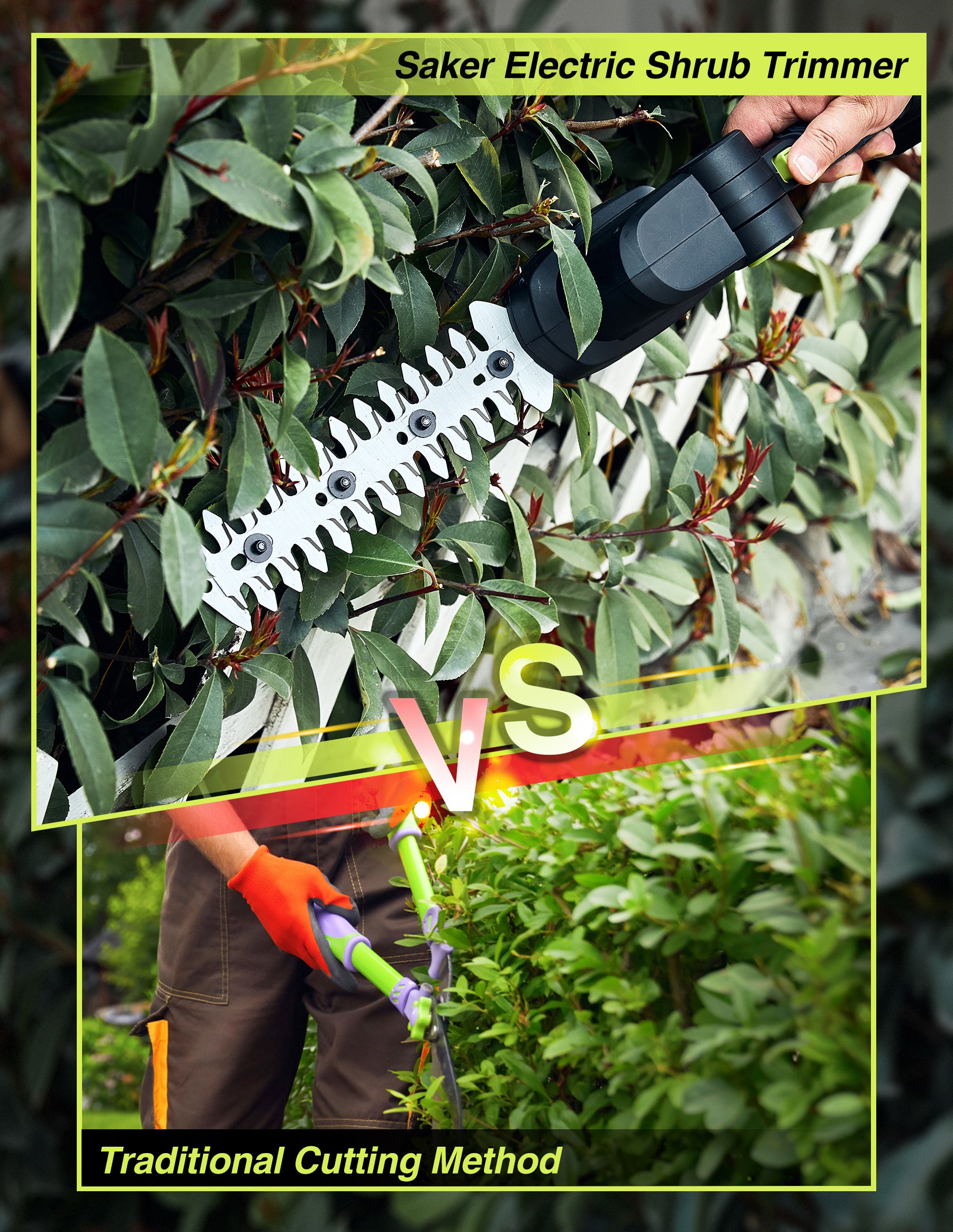 Saker Cordless Hedge Trimmer is So Easy to Use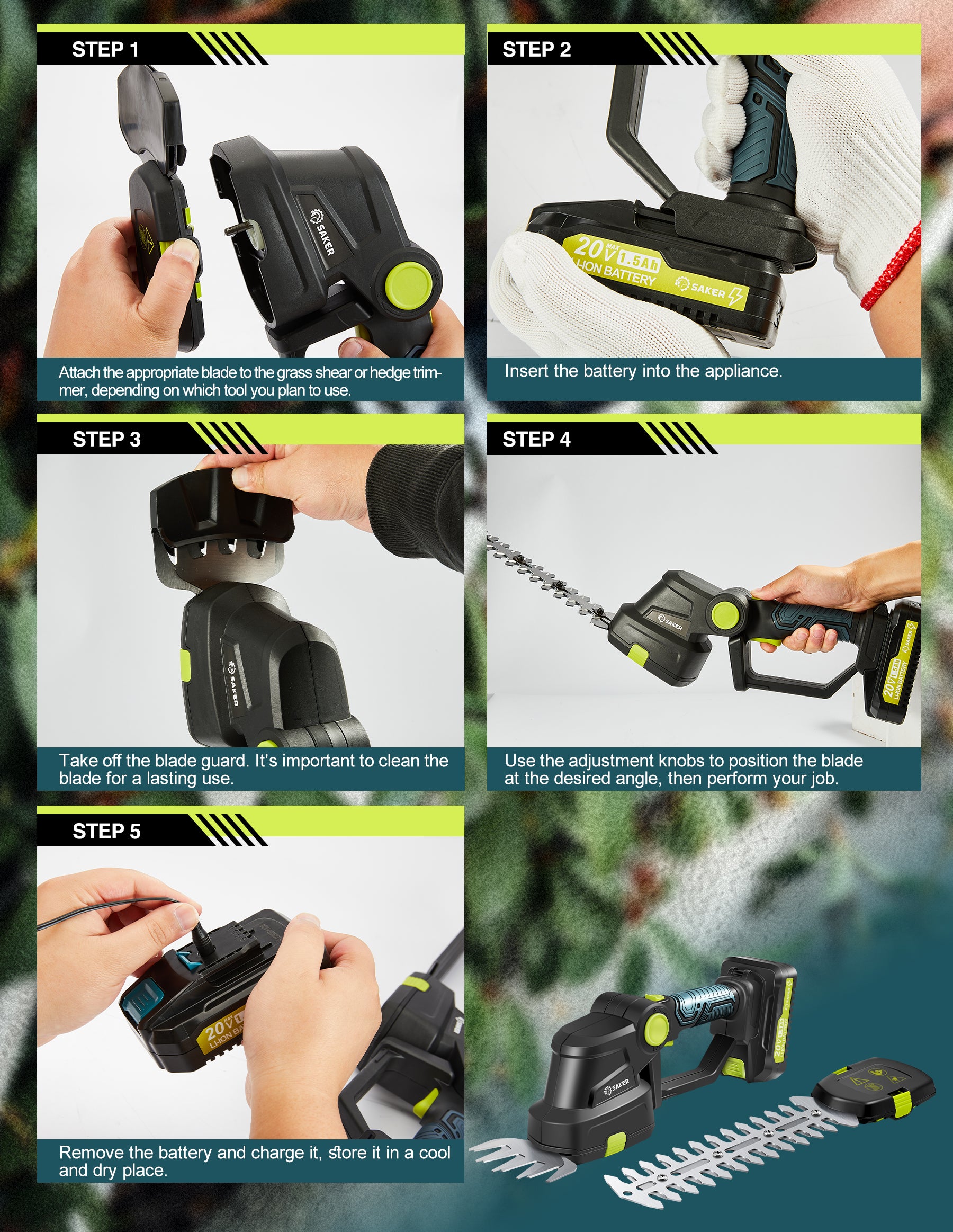 SAKER 20V CORDLESS HEDGE TRIMMER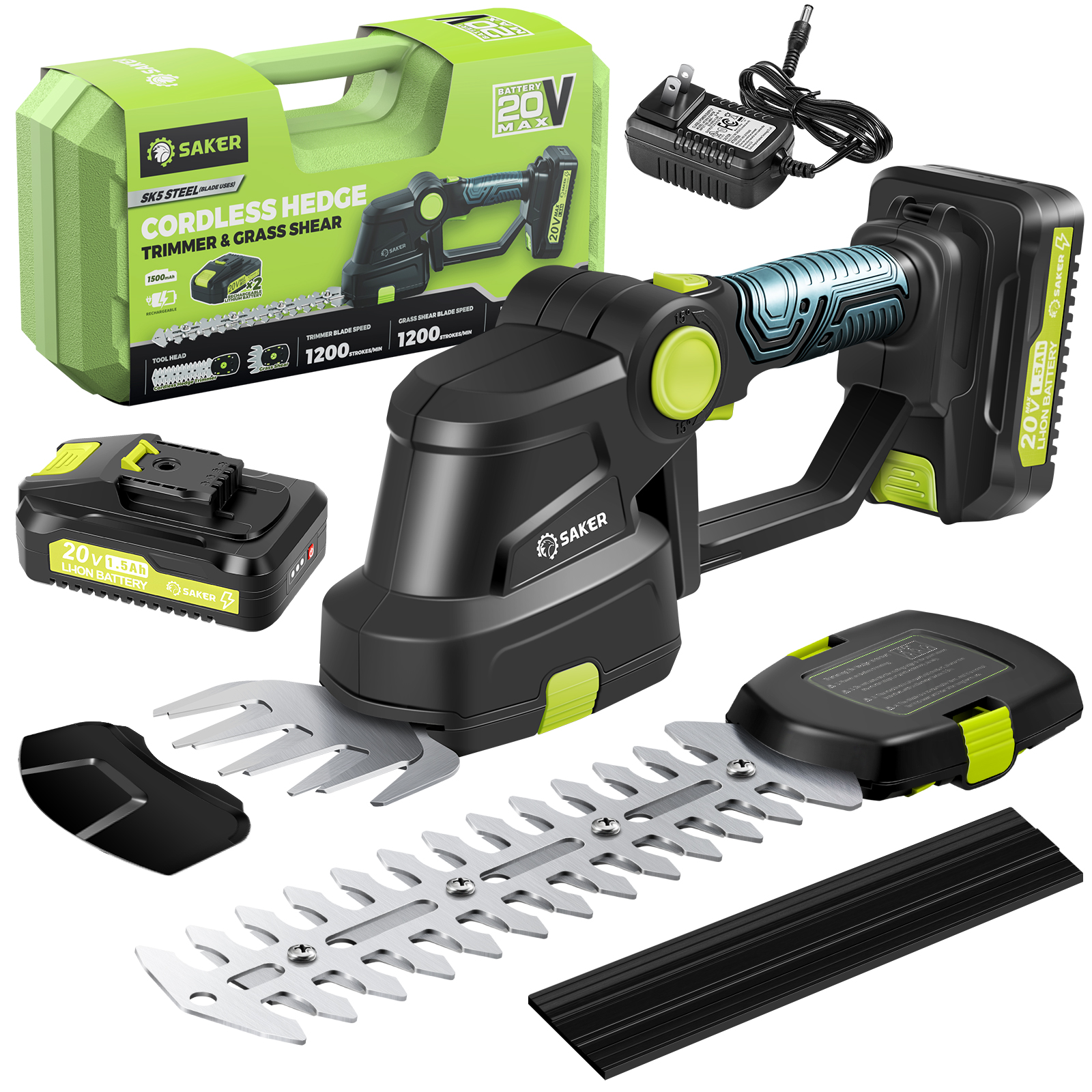 Saker Cordless Hedge Trimmer + 2 * Batteries + 1 * Toolbox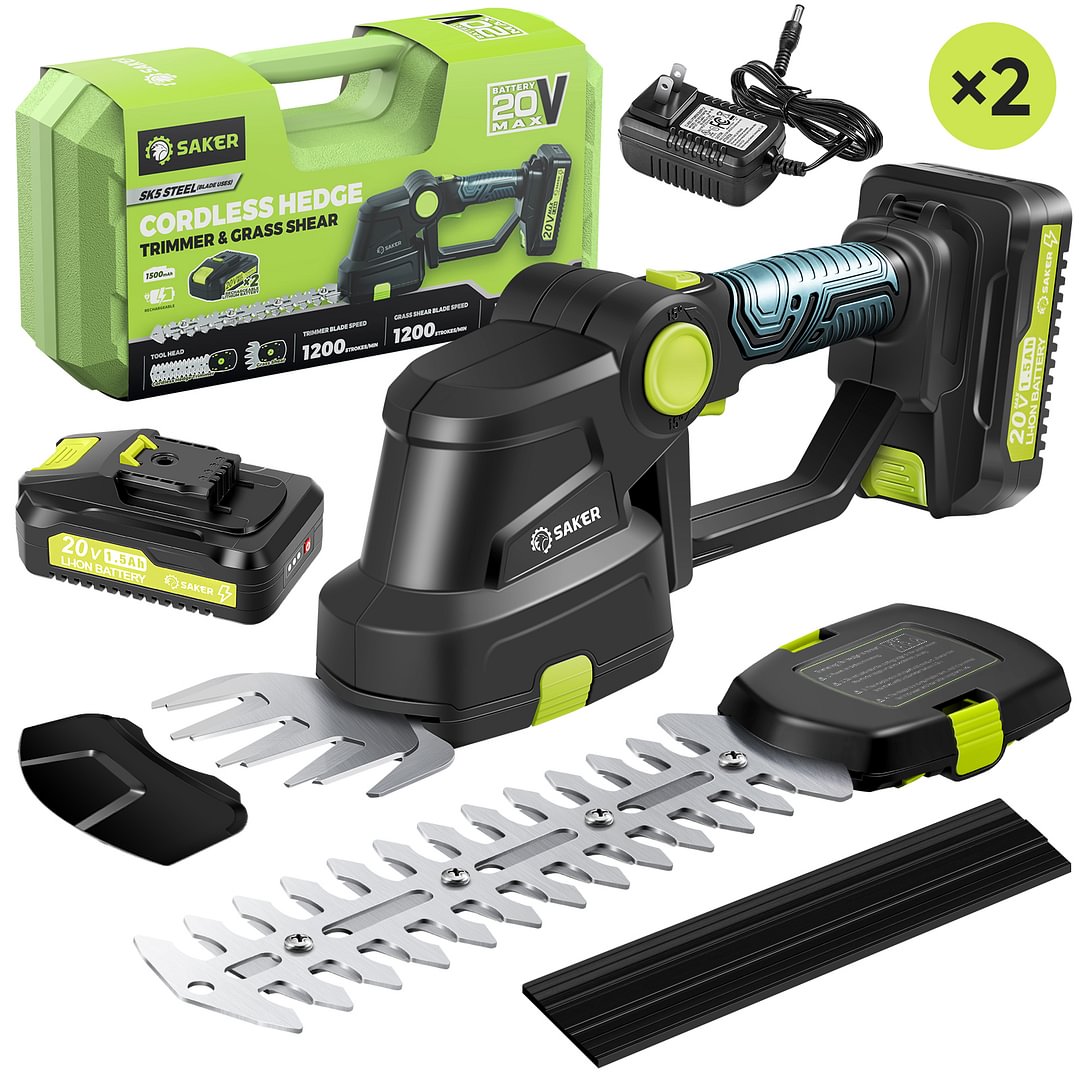 2 * Saker Cordless Hedge Trimmer + 4 * Batteries + 2 * Toolbox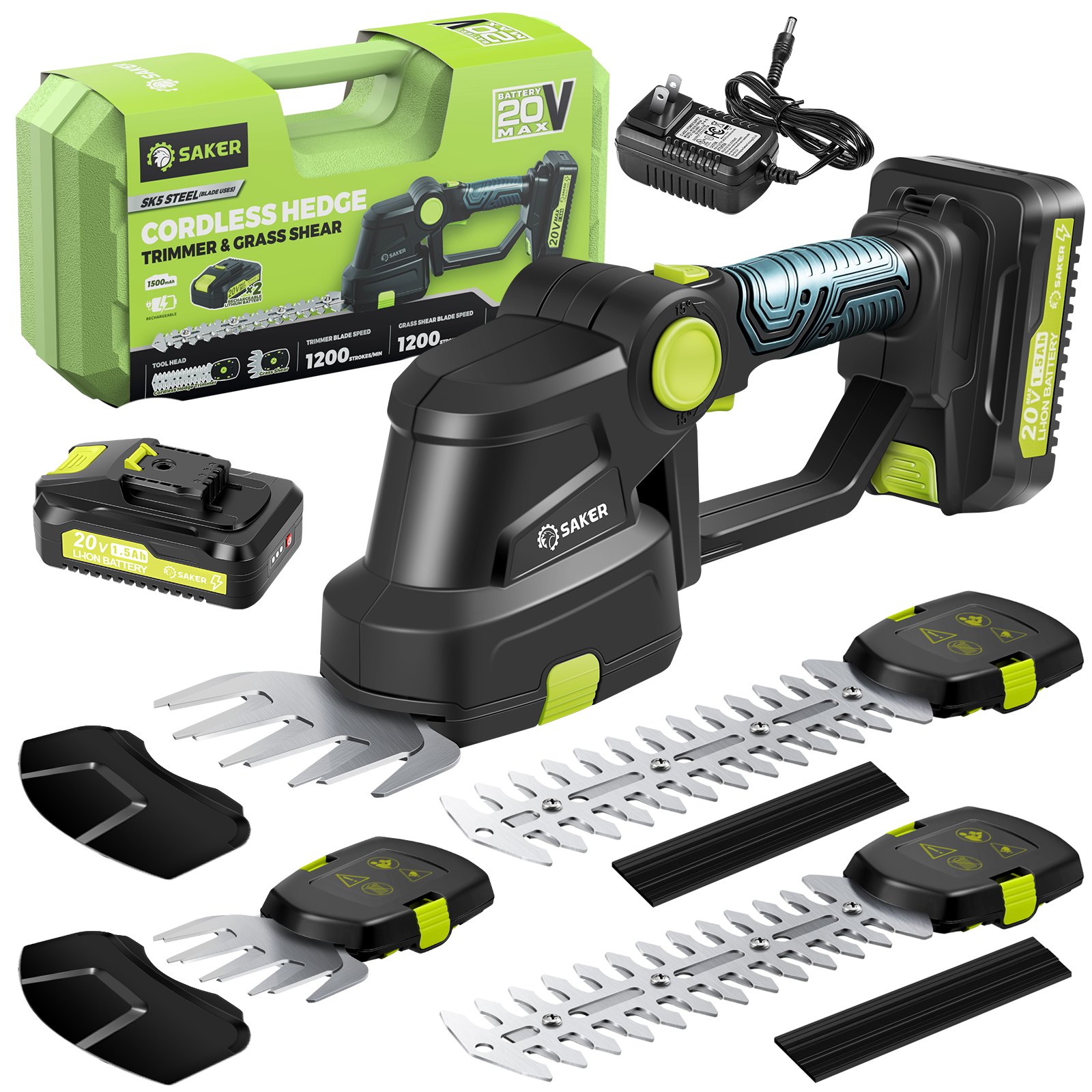 Saker Cordless Hedge Trimmer + 2 * Batteries + 1 * Toolbox + 1 * Hedge Trimmer + 1 * Trimmer Grass Shears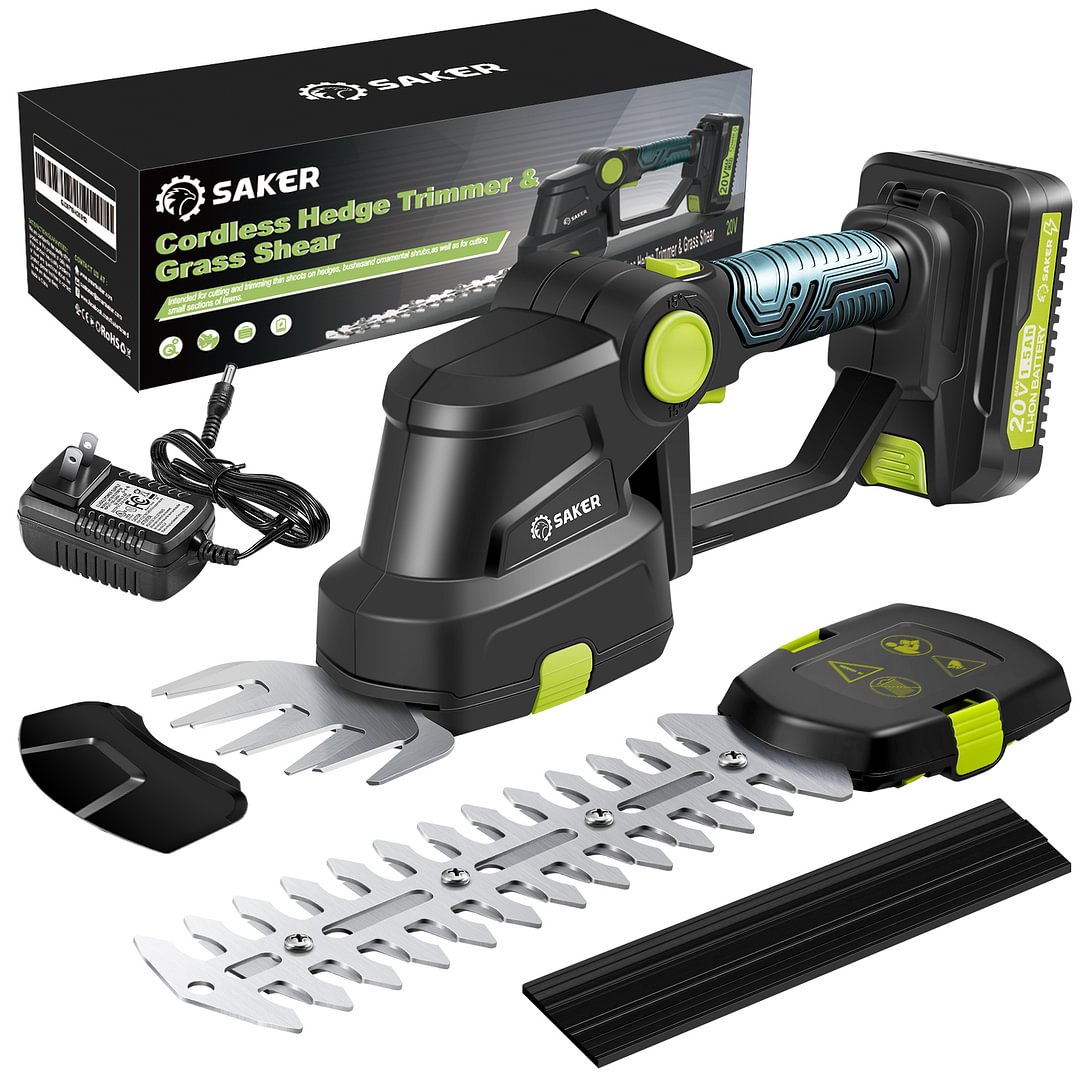 Saker Cordless Hedge Trimmer + 1 * Battery
About Saker
Saker is designed by real professionals who are out there with years of experience in real-life job sites. We've been a staple in the office industry for over 20 years, and we've helped over 2 million happy customers achieve better results in their home education projects. Our products are made with non-toxic, BAP-free, lead-free, phthalate-free materials. Our customer service team truly cares about children's growth! We are knowledgeable and ready to help - just shoot an email if you ever need anything!
Saker Has Over 64,000 Positive Reviews!
See what customers have to say about their experience with the Saker Cordless Hedge Trimmer.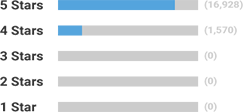 98%
of customers said they would buy again & recommend Saker to others.


This hedge trimmer makes things so easy! It's lightweight and easy to use, and the blades are sharp. The battery life is long enough to get the job done quickly. Plus, it's easy to maneuver and doesn't require any special skills. I highly recommend this hedge trimmer for anyone who wants to tackle their own yard work.
Nikolas R.


In the past, I spend a lot of time pruning and trimming, and this tool has made my job so much easier. I love how lightweight this trimmer is. It's easy to maneuver and doesn't put a lot of strain on my arms and shoulders, even after using it for an hour or more. And there's no cord to worry about getting tangled up in.
Turner M.


Overall, I'm really happy with this purchase. It's a great trimmer at a great price, and it's made my gardening tasks a lot easier and more enjoyable. I'd definitely recommend it to anyone looking for a reliable cordless hedge trimmer.
Jason H.